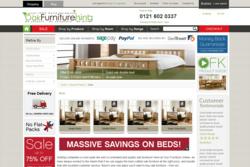 Ebay own 49% of Magento
(PRWEB UK) 30 April 2012
Oak Furniture King.co.uk today announced the software platform behind its new ecommerce shop to be Magento. The decision to use Magento was pushed by OakFurnitureKing.co.uk Digital Marketing Consultancy, they explain, "Ebay own 49% of Magento, this multichannel integration easy and the site suitable for long term growth. The other benefit of Magento is the level of functionality and scalability it offers. We were able to produce a design to increase usability and conversions, this system fully supported everything we aimed to achieve".
There were five main reasons Oak Furniture King.co.uk decided to use Magento as its ecommerce platform, Owner Kahled Ullah explains;
Integration. As stated by OakFurnitureKing.co.uk Digital Marketing Consultancy, Magento is simple to integrate with many of the 3rd-party websites to effectively promote products to a larget audience, integration with SalesForce.com, MailChimp, Google, open-source databases like MySQL, all major payment gateways (including Authorize.net, PayPal, etc.), and shipping services like FedEx & UPS are supported by Magento.
Special tools and features. Magento is an especially feature-rich ecommerce platform, it enables many specialised tools that other ecommerce platforms are missing. Among other advantages, Magento comes with built-in SEO (search engine optimisation) features, recognises international currencies and updates currency rates live, provides you with online marketing tools, allows buyers to rate and review your products or keep wishlists, and much more.
Multi-store capacity. Unlike most of the other platforms out there, Magento doesn't limit you to using a single online store. Instead, it gives you the capability to run multiple stores from the same backend interface, with all of the information for all of your stores available on the same admin panel.
Easy customisation. Rather than having to use standard templates which may be in use by hundreds of other websites, Magento allows for a high degree of developer customization. As a result, it's much easier to establish a unique and memorable web presence for your business. It also enables a better rate of personalised design, improving conversion rate and usability.
Innovation. As one of the newer eCommerce platforms available, Magento offers clear improvements over its predecessors, but the innovation doesn't stop there. As an open-source platform, Magento is also updated regularly by designers, which means you'll continually get new features and speedy bug fixes, as well as support from the larger Magento web community
Oak Furniture King.co.uk is a UK Independent retailer located in the West Midlands, United Kingdom. OakFurnitureKing.co.uk is a specialist in 100% solid hardwood furniture for the consumer market.