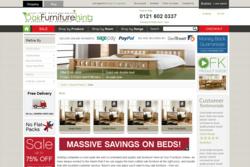 We like Twitter due to its simplicity, we can post messages and images to our clients without over complicating the message
(PRWEB UK) 30 April 2012
OakFurnitureKing.co.uk today announced the launch of its new oak furniture ecommerce store on social networking site, Twitter.
OakFurnitureKing.co.uk has selected Twitter as its social network of choice due to its benefits as a marketing and PR tool.
Twitter is a great way for Oak Furniture King.co.uk to have a conversation with our target market and mange connections with prospects, customers, bloggers and other influencers. Twitter is limited to 140 characters per update, this means Oak Furniture King can keep or communication short, snappy and to the point.
Oak Furniture King.co.uk is also keen to keep in touch with bloggers and the general media given its plans to begin TV advertising in 2013. For OakFurnitureKing.co.uk users, Twitter was chosen as it is really easy to follow someone. The new furniture retailer has already noticed how quickly people have taken to following them.
As advised by OakFurnitureKing.co.uk Digital Marketing Consultant, Twitter will be immensely useful for announcements such as specials, deals or sales. OakFurnitureKing.co.uk are keen to have customers engage customers in social events on a local basis. Twitter will be the ideal platform for making announcements in real time as the even takes place.
OakFurnitureKing.co.uk has a lot of marketing taking place in order to promote the website. Also keen to promote blog articles, webinars, interesting news Twitter can act as a central point of communication.
The main objective for OakFurnitureKing.co.uk is to communicate with customers in an engaging way.Owner Khaled Ullah commented, "Twitter was selected due to its simplicity, our marketing team can post messages and images to our clients without over complicating the message. Oak Furniture King also really want new customers to communicate with the business via Twitter and show images of products in use. The whole team are very excited by what the marketing pland and Christmas promotions".
Oak Furniture King.co.uk is a UK Independent retailer located in the West Midlands, United Kingdom. OakFurnitureKing.co.uk is a specialist in 100% solid hardwood furniture for the consumer market.