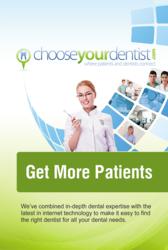 Our goal is to provide the information that patients have told us is important to them in quickly and easily locating a dental care partner
Frisco, Texas (PRWEB) April 30, 2012
DentalSpots.com founder Feridoon Amini has announced that his company will unveil a new service at the annual meeting of the Texas Dental Association in San Antonio. The service, ChooseYourDentist.com, is a state-of-the-art fully integrated website which is designed to help families or individuals quickly find the right dental professional for their healthcare needs. This service is helpful to consumers who do not have a dentist, to those who are in need of a dental specialist, or for those who are moving to a new geographic location.
People in need of a dental professional can use the website to find prospective dental providers using search features which easily sort through geographic location, specialty and other selection factors to highlight top potential dental partners. They then have the opportunity to review information about the practice to help in narrowing down their selection process. Some dentists may even choose to include a video profile and office photos to create a quick microsite for prospective patients to view. The site will also enable patients to submit appointment and call requests online. Website visitors will also have access to a library of dental and health information to help them make more informed choices.
DentalSpots.com is a nationwide job search engine that provides an online resource for finding dental jobs and offering employers dental hiring solutions. "This is the next logical step in our ongoing efforts to completely serve the online needs of the dental care industry," said Amini. "DentalSpots.com helps dental practices fill open full-time, part-time and temporary dental jobs such as dental assistants, dental hygienist jobs and dental front office jobs. ChooseYourDentist.com helps patients find the right dentist and provides education to help make an informed choice."
Amini has over twenty years of experience as an IT architecture and design expert. His wife, Dr. Mojan Safavi, is a practicing dentist who served as cofounder for both websites in order to help the dental industry work more efficiently. Dr. Safavi is a member of the Texas Dental Association who is sharing her insider knowledge of how a dental practice works.
"We are thrilled to use the Texas Meeting to introduce ChooseYourDentist.com," concluded Amini. "We hope that word of this great new opportunity to bring patients and dentists together will spread quickly after that. We know that different people use different information to choose a dentist. Our goal is to provide the information that patients have told us is important to them in quickly and easily locating a dental care partner."
The Texas Meeting is the 142nd Annual Session of the Texas Dental Association (TDA). It takes place May 3-6 at the Gonzalez Convention Center in San Antonio, Texas. DentalSpots.com has met the rigorous selection criteria to become an endorsed partner in the Association's TDA Perks Program by offering a product or service of quality and value to TDA members. DentalSpots.com is the only Online HR Services company endorsed by the program.
Further information on ChooseYourDentist.com may be obtained by visiting the site or stopping at the DentalSpots.com booth during the Texas Meeting. Further information on DentalSpots.com may be obtained by visiting the website at http://www.dentalspots.com, connecting on Facebook, following @DentalSpots on Twitter, or calling 1-800-971-8008.