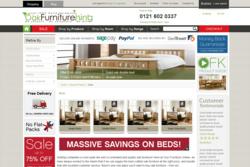 Our business is geared towards growth, flexibility and communication.
Our customers as at the heart of our business, we want to ensure our website, and communication tools will enable our business to grow and interact with our customers
(PRWEB UK) 30 April 2012
Oak Furniture King.co.uk today announced on Twitter, Mail Chimp to be the companies email marketing platform of choice. Owner, Khaled Ullah announced the decision this morning shortly after the company launched its new ecommerce website.
Khaled Ullah explains, "Oak Furniture King is geared towards growth, flexibility and communication. Oak Furniture King's customers will be the heart of our business. Email marketing is part of customer interaction for the business. Mail Chimp was recommended to Oak Furniture King by our Digital Marketing Consultant. The benefits of using a flexible system which can integrate with our website and analytics software is a huge advantage".
Integration is a big part of the marketing plan for Oak Furniture King.co.uk, Mail Chimp integrates with Google Analytics, Facebook, PayPal, Twitter and Survey Monkey to name a few. Khaled Ullah further explained the benefit of using an email provider which would enable customised designs to enable a custom feel the companies email communication. Conversion and Usability is a big part of any marketing activity OakFurnitureKing.co.uk undertake, Mail Chimp enables the level of customisation required by OakFurnitureKing.co.uk Conversion Rate Optimisation Consultant.
OakFurnitureKing.co.uk's Digital Marketing Consultancy commented, "Mail Chimp has personality, that's important to our client as they aim to develop a personality of their own as the brand develops".
Oak Furniture King.co.uk has simple goals, to provide quality products at affordable prices and ensure its customers are communicated with effectively. They're not about gimmicks, the quality of product, value and service will speak for its self".
With the announcement of the OakFurnitureKing.co.uk's website earlier today, the company have a range of special promotions lined up to be communicated via Twitter and Facebook.
Oak Furniture King.co.uk is a UK Independent retailer located in the West Midlands, United Kingdom. OakFurnitureKing.co.uk is a specialist in 100% solid hardwood furniture for the consumer market.