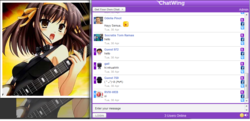 Jacksonville, FL (PRWEB) April 30, 2012
Chatwing is now ready to branch out in various Anime communities because of its newly-launched chat box. The developers have realized that Anime is truly a large niche and it is growing in a continuous basis. Adding to that, a single Anime show has over thousands of users, depending on popularity. It has been proven that one Anime show can spark different types of topics.
Some users who had the early Chatwing experience were Anime lovers. This has been in accordance with the study conducted by Chatwing's developers. "In Chatwing's home page, some people are actually Anime fans looking for new friends. The moment they landed in Chatwing's home page, we did an actual research and we saw famous sites such as Crunchyroll, Animepalm, and Mangafox. These sites are big. I mean, they have thousands of users of everyday," commented by Michael Diamond, one of the elite developers of Chatwing.
With such vigor, Chatwing made a quick move and recommended the website chat box to anime bloggers and cosplay recommendation websites. It has also been noted that Anime blogs have a lot of visitors especially if they are discussing phenomenal Anime shows such as Naruto, Bleach, One Piece, Full Metal Alchemist, and Fairy Tail.
Since Chatwing is a widget, it can also be installed to blogs and websites that allow HTML coding. Installation of the chat box doesn't take much time. First, the user must register his blog or website's domain name. After that, he must create an official Chatwing account. The second step is customization. Through this, the user can modify the appearance of the widget and change its title. Once everything has been completed, Chatwing will generate the needed HTML code. Embedding takes only a few seconds.
One of the best things about the Chatwing shout box is the Facebook integration feature. Through this option, users will now have the opportunity to log in using their Facebook accounts. This makes information exchange easier. It has been observed that Anime cosplayers use this option to connect with their friends or get new information where the latest cosplay event will take place. This is also a useful option when it comes to finding other Anime fans and even Anime groups.
About Chatwing.com
Chatwing.com has developed live chat software for websites and blogs. It caters to different online chatrooms due to its high rate of connectivity. Everyone can create a customizable live chat box feature in 1 minute or less. Users also have the opportunity to customize the size, color, and fonts of the chat product. The ability to chat via social media accounts such as Facebook and Twitter enable Chatwing to offer a personal and unique real-time experience to all sites. Chatwing is 100% free and very easy to use.