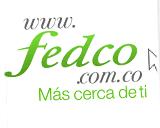 Bogota, Colombia- April 30, 2012- (PRWEB) April 30, 2012
In this new era of virtual communication, social networking and online advertisement, FEDCO CEO Leo Eisenband of the famous perfume and beauty supply chain in Colombia, has decided to move forward by launching a new online store available to FEDCO customers worldwide.
The new online site was designed to offer a different kind of shopping experience for FEDCO customers living in and outside Colombia with no access to local FEDCO stores. Likewise, regular customers with access to the stores have now the option to shop online from the commodity of their homes at affordable shipping rates.
"The main purpose is to give our national and international customers the chance to purchase our products from anywhere in the world," said Leo Eisenband. "We will ship their gifts to their family and friends who are living here in Colombia."
The website is expected to reach more than 680 national mailing destinations throughout the country supplying the increasing demand for health and beauty products. In addition, the site also counts with direct access to mainstream social networks such as Facebook, making FEDCO a pioneer in the new established E-Commerce in Colombia.
Among the many sections of the page, costumers will have easy access to information and prices on more than 4,000 products under categories such as skin, perfume, makeup, bath, accessories and gifts.
For more info, access http://www.FEDCO.COM.CO