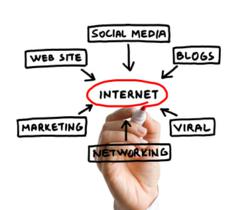 Instead of taking the conventional route of posting a job ad in the classifieds or on a job posting website, the company turned to social media instead.
Winnipeg, MB (PRWEB) April 30, 2012
Canada's Web Shop (CWS), a full service online marketing firm based in Winnipeg, is changing the way that job seekers find, and apply for, employment opportunities. Instead of taking the conventional route of posting a job ad in the classifieds or on a job posting website, the company turned to social media instead. They expected to get a better quality of candidate, but they also got much more.
Current job market statistics show that 89% of companies are using social media for HR recruiting purposes. Interesting, though, is that while 85% of job seekers have a presence on social media - such as Facebook, Twitter, LinkedIn, etc - only 1 in 6 job seekers actually find work through those social media channels. "Quite simply," says Joseph Ranseth, Senior Marketing Strategist for CWS, "this is because the companies aren't using an effective online marketing strategy for connecting with job seekers."
Looking to change that, CWS recently announced on their blog that they are hiring for a position they refer to as an Online Marketing Dream Job. "We want to find a certain type - and calibre - of candidate, so we are taking an unconventional approach to find that right person." Excellent pay, a free iPad, and Winnipeg Jets tickets are just some of the perks that make this position unique, and accurately described as a "dream job." It seems that the social media scene in Winnipeg would agree, as the initial blog post caused a stir on both Twitter and Facebook. Within an hour of first mentioning it, over a dozen people had "retweeted" the position details and by the end of the first day, three applications had already been received, including one candidate who set up a brand new web site entitled HireMeCanadasWebShop.com.
By advertising the position only on social media, CWS has taken the first step in filtering suitable applicants. They have also taken it a step further, by abandoning the outdated recruitment process. In lieu of of submitting a resume and cover letter, applicants are asked to write a blog post about why they feel they are the best fit for the position and then share it on their social networks. Ranseth suggests that this method will ensure that all candidates have the practical experience and skills directly related to the job description. Certified human resource professional Barbara Weselak agrees. "Resumes & interviews have been shown to be far less-effective in measuring a candidate's actual abilities to perform the required duties. By asking prospects to demonstrate actual proficiency during the application process, Canada's Web Shop is effectively determining which candidates have the skills needed to be successful in the role."
CWS anticipates that they will hire their new team member in the next few weeks. They also plan to use this same method in future openings at their agency. Those interested in applying are encouraged to visit the CWS blog and follow the instructions posted there.
About Canada's Web Shop:
Since 1999, Canada's Web Shop (CWS) has been helping businesses strategically focus on their online marketing initiatives. As the leading full-service online marketing company in Manitoba, CWS helps organizations implement and track return on investment for all online marketing tactics including search engine optimization, social media marketing, email marketing and pay-per-click advertising. CWS provides strategic guidance and expertise in an ever changing online marketing world. CWS works with more than 120 companies across Canada and the United States. Visit http://www.thewebshop.ca to learn more.