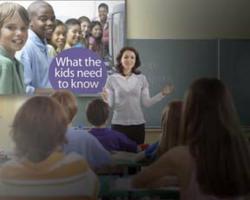 Suffering social isolation can lead kids and parents to consider sharing a diagnosed disability with classmates.
Frederick, MD (PRWEB) April 30, 2012
Originally developed by a mom for her son, this power point presentation was used as a tool to tell her son's 6th grade classroom about Asperger Syndrome. Following the success he experienced after using the presentation, she worked with Barbara Luborsky, OTR/L, a pediatric occupational therapist and founder of Way to Grow, to write and edit the script and the Parent Guide, and document validating research to support this approach.
Students with disabilities are often the targets of bullies. Research shows that children with Asperger Syndrome are actually targeted by bullies at a rate that is four times higher than their typical peers. Watching their child suffer social isolation or be a target of bullies can lead parents to consider sharing information about their child's diagnosis with his classmates.
Research also shows that telling peers can improve the social climate of the classroom for kids with special needs as long as classmates are also given information about dealing with affected peers. Clear and concise information is critical, but it is also important to allow time for kids to problem solve and plan how to improve social interactions when their classmate acts out or behaves oddly.
"I was welcomed with open arms on the first day of class, and during the few short, weeks after. Then people began to notice that I was different. The other kids wouldn't talk to me, and instead would avoid me like the plague. "Friends" I had made in the beginning of the year always had other things to do when I wanted to get together. I voiced my complaints to my mother and she thought we should tell the kids about my disability. I refused. But after a few more weeks of the same old treatment, I informed my mom that I wanted to tell them. On the day of the presentation, I was nervous. What if everybody teased me more, or started acting like I had a disease? When the time came for my mom to present it, I left the room. When I came back into the room, it was like a light had turned on. Right away, everyone was much more open in general, and they seemed more understanding. They invited me to play games on the playground, and saw me for who I really was. Nobody mentioned my disability, but came forward with an open mind."
Background: Way to Grow is a private pediatric occupational therapy and speech clinic located in Frederick, MD. The Way to Grow staff has been specializing in treating the unique needs of children since 2002. Ms. Luborsky is the owner of Way to Grow and is an occupational therapist who has worked with children of all ages with various diagnoses. Learn more at http://www.way2grow.com.
A video to preview the presentation can be seen at http://www.Tools2growkids.com. To purchase the presentation, parent guide and script for $47.99, go to http://www.Tools2growkids.com.
For more information or to schedule an interview with Barbara Luborsky, please email her at info(at)tools2growkids(dot)com
###