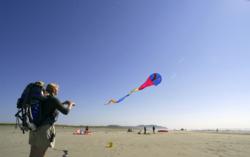 Long Beach, WA (PRWEB) April 30, 2012
Families looking for fun and affordable events to enjoy this summer will find several that fit the bill on the Long Beach Peninsula – a 28-mile long, pet friendly, beach destination on Washington's southwest coast. In addition to Summerfest, with free street entertainment on weekends all summer long, highlighted summer, highlighted family events in Long Beach include Doggie Olympic Games, Beach to Chowder Run and Walk, Sandsations and City Sandsations, and the Washington State International Kite Festival.
Families with pet dogs of all ages and breeds (including mixed breeds) are invited to compete in the Doggie Olympic Games. The event takes place on June 15 and 16 in Long Beach, a quintessential beach town. Doggie Olympic events for young pups and old timers take place during the Pizza Party on Friday evening. Dogs and their owners flock to the beach on Saturday for light-hearted competition including Nadia Comaneci Agility, Dunking for Dogs, Filla Fuller Brush Shedding, Babe Ruth Obedience Baseball, Doggie Dash, and more, for gold, silver and bronze medals. The entry fee is $10 per event or $40 for 5 or more events.
The whole family is invited to challenge their legs and appease their taste buds at the Beach to Chowder Run and Walk, in Long Beach, on Saturday, June 23. The relaxed 5K run/walk and the exhilarating 10K run promise great ocean views as well as invigorating ocean breezes. For all those reaching the finish line, the event offers personal satisfaction, awards for top finishers and steaming bowls of scrumptious clam chowder. All ages and levels of ability are welcome to participate, and spectators are invited to cheer on the walkers/runners. Advance registration ensures a commemorative event t-shirt.
Friends and families can learn the how to of sandcastle building and then express their creativity and skill during Sandsations and City Sandsations, July 25 through 29. Visitors can watch and learn from master sand sculptors in downtown Long Beach during City Sandsations. On Saturday, July 28, novice to master sculptures head to a wide, sandy stretch of beach a short walk from downtown, to quickly build sometimes fanciful, magical, comical, intricate, bold, and/or artistic sculptures using truckloads of sand, sea water, buckets, shovels and trowels. Entry for a family of up to 8 people is $15. Children under 12 can enter for a dollar.
Called the "greatest, grandest Kite Festival on the North American continent" by Kitelife Magazine, the Washington State International Kite Festival (Aug. 20-26) fills the skies above this spacious beach and near the Long Beach boardwalk with brilliant colors, a myriad of shapes and constant movement for a full week starting the third Monday each August. Free to spectators, this well-established festival attracts professional and amateur kite makers and fliers from around the globe, as well as an enthusiastic group of spectators to watch the competitions, learn about kites at the World Kite Museum, enjoy hands on activities and the colorful festivities on this expansive beach. Crowd favorite events include fighter kites, kite ballet, lighted night flies and mass ascensions – a spectacular exhibit of more than 250 kites rising into the sky simultaneously.
About the Long Beach Peninsula
With its mix of sensational restaurants, local seafood, ocean view lodging, unique museums and attractions, landmark lighthouses, fine art galleries, meandering trails, birding spots, state and national parks, and, above all, its long, wide, windswept beach, the Long Beach Peninsula continues to be one of the Northwest's most enjoyable and refreshing family destinations. Located 2.5 hours from Portland and 3.5 from Seattle, the Long Beach Peninsula is a longtime favorite for those seeking easily accessible outdoors, great food and affordable creature comforts. For event and visitor information, please call the Long Beach Peninsula Visitors Bureau toll free at 1-800-451-2542 or access http://www.funbeach.com.