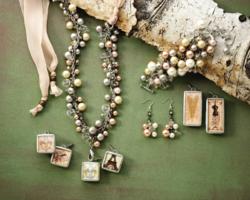 "Jewel Kade is all about celebrating the soulful, beautiful moments of life in handcrafted charms and inspired jewelry...it's a privilege to be a part of more weddings across the country," said Janet Kinkade, Jewel Kade Founder, President & Designer
Alpine, UT (PRWEB) April 30, 2012
As brides get ready to say "I do," they're saying "I want something custom" when it comes to jewelry for the wedding day. And for the day that lasts forever, more brides are choosing the timeless quality of Jewel Kade.
Hitting both vintage and modern notes, Jewel Kade lends romance and one-of-kind quality to a day that is itself romantic and unique.
With the spring and summer wedding season approaching, Jewel Kade has seen a significant surge in orders for its custom handcrafted JK Photo Charms. Brides create their charms in the online JK Studio featuring a photo from their bridal shoot or from their big day, and then JK Production Artists in Alpine, Utah, handcraft the charms. Many brides add a Jack Tag to the ensemble – with the date of their wedding custom-stamped on the pewter charm. Brides also create JK Photo Charms to recognize those who are not able to attend the wedding – designing a charm with a vintage photo of grandparents or other loved ones who have passed on, keeping them close to their heart on their special day.
Brides are also giving Jewel Kade to their bridal party – both as accessories for the event, as well as thank you gifts. Whether it's the Carriage Necklace with matching Carriage Drop Earrings, the Vintage Coin Necklace in each person's initial, or a special Photo Charm framing a photo of the bridal party, Jewel Kade makes a lasting, meaningful gift.
Other pieces lend themselves well to the special day. The Glamour Pearls Necklace, for example, pairs perfectly with gowns in ivory and blush tones. For the bride in pure white, the Cream Layering Pearls or Last Dance Necklace, complemented by the Duchess Bracelet, make the ideal accent.
"My oldest daughter recently married, so for me creating pieces that complement a day that important is very personal," said Janet Kinkade, Jewel Kade Founder, President & Designer. "Jewel Kade is all about celebrating the soulful, beautiful moments of life in handcrafted charms and inspired jewelry – for this reason, it's a privilege to be a part of more weddings across the country."
ABOUT JEWEL KADE
Handcrafted charms. Inspiring jewelry. Intriguing accessories. Available through JK Stylists nationwide, Jewel Kade is a fresh take on timeless fashion. Founded by Designer Janet Kinkade, Jewel Kade's charms are all handcrafted in JK's Production Studios in Alpine, Utah. Jewel Kade has garnered national attention – appearing on ABC News, The Today Show, The Ellen Degeneres Show, and American Idol. (Citing media references does not imply endorsement of Jewel Kade products in any way by media, related production companies or related spokespersons/personalities.) For more information, visit http://www.jewelkade.com.