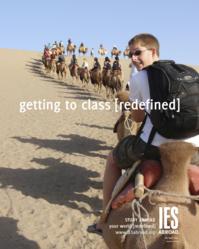 Chicago, IL (PRWEB) April 30, 2012
The marketing professionals at IES Abroad were honored among the nation's top communicators for their 2011 marketing campaign at the annual Nonprofit PR Awards ceremony sponsored by "PR News" in Washington, D.C. A leading provider of study abroad programs, IES Abroad won the prestigious top award in the marketing campaign category where entries are judged on objectives, research, challenges, execution and results.
Sometimes a simple message can make a powerful impact. That was the case with "Your World [Redefined]"—the title and slogan for IES Abroad's successful marketing campaign developed to get college students excited about spending a semester abroad. The marketing team at the not-for-profit organization faced the challenge of creating a cost-efficient marketing campaign that would compete in a crowded marketplace where other companies and organizations outspend them with much larger marketing budgets. And, the campaign theme and strategy had to appeal to multiple audiences—students, parents, study abroad coordinators and professors at colleges and universities.
Campaign integrates student input and photographs
Students adopted the campaign by taking photos overseas showing how their personal worlds and lives were being redefined by their study abroad experiences. IES Abroad provided signs printed with the [Redefined] slogan and a "fill-in the blank" to encourage student creativity and engagement. More than 120 students provided photos which are featured throughout the campaign. Students have also posted first-hand descriptions of their worlds redefined on blogs and in social media outlets.
One student was photographed riding a camel in China and a poster and ad were created with the headline, "getting to class [redefined]". Another student was photographed in front of a French castle with a sign reading "fairy tales [redefined]".
Along with a campaign slogan that ably displays how everyday experiences can be viewed through different cultural perspectives, the team developed cost-effective and even no-cost tactics that included incorporating the [Redefined] theme into a YouTube video, a calendar with 12 views of the campaign theme, posters, web advertising banners, and brochures as well as the IES Abroad website and annual program catalog.
The YouTube video created to embody the campaign's essence, included "dining out [redefined]" showing students eating on the lawn near the Eiffel Tower in Paris and "biology class [redefined]" showing a student with a seal on a Galapagos Island beach.
In response to the campaign, study abroad coordinators from eight colleges and universities who are members of the IES Abroad Academic Consortium requested customized versions of the Your World [Redefined] video to post on their websites.
IES Abroad, which celebrates its 62nd anniversary in 2012, is a global, not-for-profit academic consortium of more than 200 top-tier American colleges and universities. IES Abroad offers 100 programs at 35 international locations in Africa, Asia, Australia, Europe, New Zealand and South America. More than 5,500 students enroll in IES Abroad programs each year. For more information, please visit http://www.IESAbroad.org
IES Abroad has received the prestigious Quality Improvement Program (QUIP) designation from The Forum on Education Abroad for meeting the highest standards for study abroad programming and evaluation in the nation.