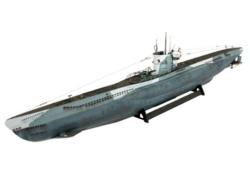 Lake Forest, IL (PRWEB) April 30, 2012
The staff at Modeler's Workbench was excited to order and put the German U-Boat model Type VIIC Wolf Pack Submarine from Revell of Germany in stock. They indicated that the 1/72 scale made it sound like a very large model, and as they opened the box, they learned they were right. Everybody was surprised to see that the two halves of the hull actually go the entire length of the box. They barely fit even though they are laying somewhat askew from one corner to the other (it has a 36.73 inch length when assembled).
Closer examination revealed a number of interesting points that have led to the successful sales record of this recently released model. Modern moldings give the exterior clean lines with every panel and rivet clearly indicated. After removing the large hull pieces, two blue sprues stood out; they hold the fifty-one included navy figures. To give modelers some variety, the German U-Boat model has a sheet of decals for marking it with six different early and late versions of the VIIC.
Modeler's Workbench has seen the Revell of Germany model selling much faster than other new releases. "The model submarine has everything modelers are looking for right now: assembly options, finishing options, and a unique scale that really makes it stand out," remarked Jeffery James, General Manager of the toy division of Renaissance Retail, the parent company to Modeler's Workbench.
After completing the seventy assembly steps and using one of the six finishing options in the instruction manual, modelers will have a huge addition to their model collections. Best of all, the 1/72 scale is standard to wargaming and diorama creations, so modelers can use the completed German U-Boat as a defining piece in a World War II display. The 20mm AA gun can be rotated once the model is completed, and modelers can adjust the movable hydroplanes, stern rudder, and extend the periscope depending on what kind of submerged appearance they want to give the model submarine.
Modeler's Workbench is the Internet's first community based retail website for modeling enthusiasts. As a family owned and operated business, its mission is to keep modelers well informed while offering the widest selection of leading plastic model kit brands. Headquartered in Lake Forest, Illinois, Modeler's Workbench is a division of Renaissance Retail, the Internet's leading source for specialty consumer products.
Contact:
Timothy Benson
Renaissance Retail
847-932-4720 ext. 2704
Email: tim(at)discoverthis(dot)com