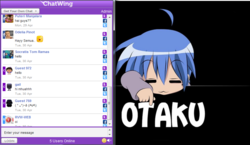 Portland, OR (PRWEB) April 30, 2012
Otakus or Anime fans can now take advantage of Chatwing—an advanced chat box with a high rate of global connectivity and ease of access. Despite being new in the industry, Chatwing is already generating enough sign-ups per day. This statistics have been taken by Chatwing's developers and management team. Recently, the Chatwing team has realized that Anime is a large niche that can be explored.
Chatwing is meant to operate on a simple platform and deliver a strong connection that can reach thousands of users from different parts of the world. This is useful for otakus who are looking for ways to find more friends and acquaintances in chatrooms. Cosplayers can also use the Chatwing chat box to ask for tips and find latest cosplay events. "Chatwing is really meant for a global scale. We spent months thinking on how to lay it to different online communities. We are still on the go, but we had a nice start," Says Michael Diamond, one of the brains behind the Chatwing chat platform.
Because Chatwing is a widget, anyone has the opportunity to install it in any blog or website. To install Chatwing, the user must register his blog's domain name and create an official Chatwing account. He can also modify the appearance of the widget to fit the theme of his blog. Widget customization is easy. To adjust the height and width, the user can move two sliders until the desired look has been achieved. As for the color, the user can pick the hue. Last, he also has the opportunity to change the title of the shout box. Once everything is complete, he can now get the HTML code and embed it to his blog or website. Chatwing will go live in just seconds prior to embedding.
Some otaku bloggers have also recommended Chatwing's website chat box as a modern day online lounge. As a bonus, guests and visitors of the chat box can use different types of avatars and emoticons to spice up any conversation. New users who want to discover the Chatwing potential can go to its homepage or visit its official Facebook page for fresh content.
About Chatwing.com
Chatwing.com is a free shout box for all web pages or blogs. It also lets anyone create free chatrooms on any website or blog. The Chatwing.com website offers users the ability to signup and create a customizable live chat box instantly with few details. Users have the ability to select the size, dimensions, and colors of the shout box. The ability to live chat with Facebook, Twitter or guest avatars is a unique feature which includes social sharing features in real-time. Chatwing is free chatroom software available to any user.