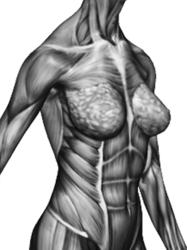 The course presents evidence-based material both in the medical management of patients with breast cancer and in the rehabilitative therapy management of patients with breast cancer.
(PRWEB) April 30, 2012
This two-day advanced physical therapy and occupational therapy continuing education seminar is designed to expand and advance current clinical knowledge by providing more in depth clinical information needed to problem solve through a complex variety of breast cancer diagnoses. Complex diagnoses include patients with aggressive forms of breast cancer; patients with metastatic breast cancer such as bone and lung metastases; patients with associated co-morbidities such as auto-immune diseases, diabetes, CHF; patients with differential diagnoses such as superior vena cava syndrome, sarcomas, etc.; and patients with treatment complications such as seromas, hematomas, infections, open wounds, axillary web syndrome, and mondors syndrome. Centered on systems management, a series of advanced, synchronized manual therapy treatment techniques are taught in the lab sessions. These advanced clinical treatment techniques will allow experienced therapists to build on their current expertise by being inclusive of all the major systems involved in the medical treatment of breast cancer patients, namely the musculo-skeletal system, the nervous system, the vascular system, the lymphatic system, and the endocrine system. Careful study of how each of these systems are affected in the breast cancer population will enable clinicians to apply advanced treatment concepts and integrative skills to effectively and successfully treat a multitude of complex patient scenarios that go beyond the routine post surgery and post radiation management of this population. Additionally, the integrated skills taught in the seminar will add leverage to current treatment protocols, optimize the functioning of patients, and bring about improved sustainable results. Upon completion of the continuing education course on breast cancer, clinicians will be able to design specific exercise protocols and use integrated systems management techniques in the advanced treatment of breast cancer patients with surgical complications, severe side effects of radiation, side effects of chemotherapy, and side effects of targeted hormone therapies. The information presented in the course will enhance therapists ability to develop a continuum of care, lead a multi-disciplined approach, and effectively market new concepts in the management of patients with breast cancer to the medical community. The course presents evidence-based material both in the medical management of patients with breast cancer and in the rehabilitative therapy management of patients with breast cancer. The information obtained in this course can be immediately applied in the clinic to achieve sustainable, functional outcomes in patients with breast cancer. North American Seminars also offers cancer related online continuing education courses for physical therapist at http://www.healthclick.com
This physical therapy continuing education course is instructed by:
Julia Osborne, PT, CLT-LANA, graduated with a BSc. (Honors) in Physiotherapy from the University of Cape Town, South Africa. In her years of practice prior to specializing in oncology rehabilitation she gained extensive clinical experience in the treatment of Adult, Geriatric, and Pediatric patients in outpatient and inpatient settings. Her specialty areas, in addition to Oncology Rehabilitation, include Combined Decongestive Therapy, Chronic Pain Management, Advanced Manual Therapy Techniques, and Womans Health. She is certified in the management of Lymphedema. Over the past six years Julia has focused her career on the development of Oncology Rehabilitation in Physical Therapy. She has developed treatment protocols for post surgical and radiation care, symptom control, patient guidelines for prevention of onset of lymphedema and other secondary complications, and she has developed a lymphedema education & resource center for outpatients. Julia has also authored several course manuals for oncology rehabilitation. These include Clinical Model of Lymphedema Management for PTs, Oncology Rehabilitation Manual for PTs, Post Surgical and Post Radiation Management of Patients with Breast Cancer, and Cancer Survivorship – How can Physical Therapy Make a Difference?
Julia is an Affiliate Faculty member of the Doctor Of Physical Therapy Program at Regis University and teaches an introductory oncology rehabilitation class to students. Public speaking has become a successful addition to Julia's career. She has been a speaker at the APTA 2005 Spring Conference in Denver, CO; and at the Day of Caring 2005 and 2006 Conferences in Denver, CO. She has also conducted 3 and 5 day seminars in Oncology Rehabilitation for HealthOne Medical Centers, and Physiotherapy Associates. Professional groups to which Julia has presented include the American Mammography Annual Conferences, Radiation Oncology at Swedish Medical Center, Sally Jobe Breast Center Physician Conferences, and the Y–Me TeleConferences. Julia is frequently invited to speak at patient support groups and at community events in Denver.
This continuing education course for Physical Therapists, Occupational Therapists and Canadian Physiotherapists is presented throught the United States and Canada.
The 2012 dates for this live evidence based cancer course are:
May 5 - 6, 2012 John Heinz Institute of Rehabilitation Medicine which is located in Wilkes-Barre, PA
Jun 2 - 3, 2012 at Vital Rehabiliation which is located in Chicago, IL
September 29 - September 30, 2012 at Englewood Hospital and Medical Center which is located in Englewood, NJ
October 27 - October 28, 2012 at Friedman Bldg, UBC located in Vancouver, BC
November 3 - 4, 2012 at Aurora Medical Center-Kenosha located in Kenosha, WI
November 17 - 18, 2012 at University of Toronto located in Toronto, ON
Understanding Lymphedema is a online continuing education course for PT and OT that also provides cancer related education.