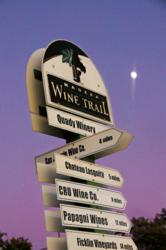 One of the great benefits of the Madera Wine Trail is that the small nature of the wineries is guests can enjoy the wine in a more intimate setting and hear from the winemakers themselves about the processes, and the passion, that went in to the bottle
Madera, CA (PRWEB) April 30, 2012
Meet the Winemaker Weekend
The Madera Wine Trail is gearing up for their next event on May 12 and 13, and it's just in time for Mother's Day.
The annual Meet the Winemaker Weekend is a popular annual event along the trail as wine-lovers can not only sample their favorite wines or find a new favorite, but also talk with those responsible for making that wine.
"One of the great benefits of the Madera Wine Trail is that the small nature of the wineries is guests can enjoy the wine in a more intimate setting and hear from the winemakers themselves about the processes, and the passion, that went in to a particular wine. It helps them develop a much deeper appreciation of the wine they are sampling," said Jarrod Lyman with the Yosemite Sierra Visitors Bureau.
The timing of the event makes it a perfect gift for mothers who enjoy wine. Many of the wineries also bring in chefs showcasing local cuisine as well as local artists and musicians to add a festive atmosphere to the weekend.
Tickets cost $25 and include a commemorative Madera Wine Trail Glass and tastings at all the participating wineries along the trail. For more information or to purchase tickets, visit http://www.MaderaWineTrail.com.
For other fun events and discounts perfect for Mother's Day or general travel this month, visit http://www.YosemiteThisYear.com and click on "special deals."