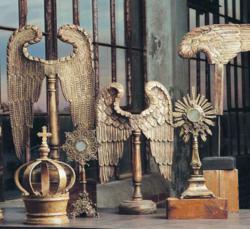 When we first looked at what would soon become our new space, we had a vision that went far beyond the existing stained drop ceiling, fifteen year old industrial carpet, florescent lighting and the office cubicles added to the 100 year old building
Atlanta, GA (PRWEB) April 30, 2012
Leading online boutique home decor retailer, Peace, Love and Decorating, founded by interior designers Jana Contardi and Jennifer Cook, will open brick and mortar storefront located at 3129 Main Street in the historic section of downtown Duluth, Georgia on May 3, 2012. Peace, Love and Decorating offers home accessories and decor, designer lighting, luxury bedding, boutique jewelry and gifts, fashion accessories, custom girls bedding and girls decor, holiday decor as well as interior design services.
Peace, Love and Decorating's new retail storefront features an eclectic mix of European, urban and vintage styles and includes some of the most sought after brands and manufacturers in the home decor and gift marketplace.
"After numerous and repeated requests from our customers, we decided to open a retail storefront to compliment our e-commerce sites," said Cook. "We were very particular about the location of our retail space and wanted to make sure the space included a sense of character and history," added Contardi.
"After looking at several locations in the surrounding Duluth area, we decided on historic Main Street in the preservation district of downtown Duluth, Georgia located just 20 minutes north of Atlanta," said Cook. "When we first looked at what would soon become our new space, we had a vision that went far beyond the existing stained drop ceiling, fifteen year old industrial carpet, florescent lighting and the office cubicles that had been recently added to the 100 year old building which stood with great potential," stated Contardi.
Cook and Contardi settled on two suites which were originally one space allowing for storefront access on Main Street as well as the Town Green. What followed was an extensive renovation of the 100 year old building to expose the the original ceiling timbers and beams, brick walls and original glass storefront. "The resulting space for our new Peace, Love & Decorating retail storefront is an interesting mix of historic features and original character that presents the perfect backdrop for our store," Cook adds.
A sampling of Peace, Love & Decorating's home decor offerings include Aidan Gray, Belle Notte Linens, Creative Co-op, Currey & Company Lighting, Dovetail Casegoods, Gabby Decor, Havaianas Flip Flops, Highland House Upholstery, Lazy Bones Bedding, Papaya Art, Peacock Park, PJ Salvage casual wear, Regina Andew, Rhonda Smith Jewelry, Seda France Candles, Shannon Koszyk Jewelry, Vagabond Vintage Decor, Votivo Candles, Wendover Art and many more.
In addition to Peace, Love and Decorating's extensive product selections, customers will also find girls bedding and girls decor from Deck My Dorm and My Royal Sister, both divisions of Peace, Love and Decorating.