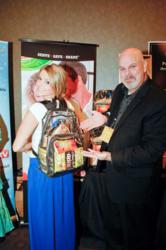 Arlington, TX & Salt Lake City, UT (PRWEB) April 30, 2012
Brad Stewart, President of GOFoods Global, the nation's category creator in premium-quality food reserves and shelf-life nutrition, brings the GOFoods mission to feed and prosper American families to Arlington, Texas, as part as the company's 100-city GO Tour 2012 event and will partner with local Independent Business Owners Cara and Scott Neece of Allen, Texas, to help share the company's story.
Families interested in sharing the GOFoods mission of feeding and prospering American families can join the GO Tour 2012 2-day event on May 3, 2012 and May 5, 2012 at the Residence Inn, 1050 Brookhollow Plaza Drive in Arlington; meetings will be held on both dates from noon to 1 pm and 7 pm to 8 pm.
The Neece family, like so many other families, has faced many challenges over the past several years. When the economy began to take a downturn, business owners Cara and Scott Neece watched their formerly thriving company crumble.
"We put up a good fight to hang in there, but the reality was that our family needed to move on and start over with something new," said Cara Neece of Allen, TX. "With very little income coming in, life was a scary and stressful, especially in regards to food—we were not prepared at all and we had 3 children to feed."
Cara and Scott Neece heard about GOFoods Global and their year-long, 100-city mission to feed and fund families that launched in February with help from cause-minded Hollywood celebrities and started by sharing 10,000 meals with the LA Food Bank families at an Oscars fundraising event in Hollywood. Cara says she is impressed that GOFoods Global is dedicating the entire year with GO Tour 2012 to take the company's story to feed and fund American families across North America and decided to find out more about their mission to assist every family that wants to participate in their great cause.
"GOFoods has not only provided a way for our family to begin building an emergency food reserve, but we are actually now saving money each month by eating our GOFoods meals," explained Cara Neece. "We aren't finding ourselves in a drive-thru and eating out at restaurants nearly as much! The quality of our family mealtimes has improved tremendously thanks to GOFoods family meals."
With GOFoods meals, families everywhere within the United States and Canada are learning how the GoFoods meals can help save them time and money, especially in today's difficult economy. Although women typically comprise the majority of direct sales opportunities, men have also seized the GOFoods opportunity as a way to improve their quality of life and better manage their family and work commitments. Food is a product that everyone needs, and GOFoods healthy easy-to-prepare meals complete a variety of lifestyles—busy college students needing a faster nutritious meal, mothers looking for a quick dinner option that doesn't involve fast food, families wanting to purchase long-term storable reserves for the future. GOFoods allows everyone to take control of their future and feed their freedom, physically and financially.
"We are so passionate about the importance of having food saved, for whatever crisis may arise, that we are determined to share the GOFoods mission with everyone," added Cara Neece. "Everybody needs to eat, and no one should ever go hungry! The donation of meals through the GOFoods Global Foundation is just another reason to solidify why we are a part of this tremendous company. GOFoods Global truly has heart and cares deeply about the welfare of the American people."
Event benefits include a complimentary GO Tour sample pack just for attending ($45 retail value); new customers who join the company's wholesale program will have their membership waived ($30 value); complimentary 1-week GOFoods food supply with the purchase of special GO Tour product packs, along with free shipping on any product orders. The company will also provide complimentary training for those who want to know more about the health and preparedness benefits of GOFoods and how to help their families prosper. The end of each meeting will also include training on GO Party, the company's new direct sales model that brings families and friends together in a fun and relaxing atmosphere while providing rewards on every level of party participation. To contact Cara Neece in Allen, Texas please email: cara(at)gopartymom(dot)com.
About GO Tour 2012
GO Tour 2012 is traveling across North America; visit the GO Tour 2012 website at http://www.GOTour2012.com to find all event locations. Phase 1 begins in 18 western cities across North America and sets the foundation for the entire tour. As participation in the tour grows, phase 2 will be a revisit to the same cities with added cities in the Midwest. Phases 3 and 4 include visits to the central and eastern regions of Canada and the United States in addition to the company's GO Cruise summer incentive trip in the Caribbean. More details and updated tour schedules can be found at http://www.GOTour2012.com throughout the year.
Contact: Erin Hallmark, +1-801-415-2745, info(at)gofoodsglobal(dot)com