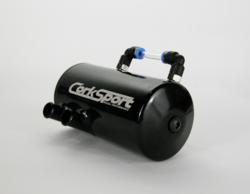 CorkSport has developed a unique style of oil catch can that uses cyclonic force to remove contaminates and oil from the PCV system before the air moves into the intake manifold enhancing reliabilty of the engine and providing improved performance
Vancouver, WA (PRWEB) April 30, 2012
CorkSport, a leading manufacturer and reseller of Mazda aftermarket performance parts, is pleased to announce the release of the CorkSport Oil Catch Can for Mazda and Mazdaspeed vehicles.
After more than a year of research and development, CorkSport has developed a unique style of oil catch can that uses cyclonic force to remove contaminates and oil from the PCV system before the air moves into the intake manifold.
By using this method instead of simply allowing the contaminants fall out of the PCV vapors, CorkSport's Oil Catch Can is able to keep more water, particulates, and contaminates out of the intake system enhancing the reliability of the engine and providing improved performance, better fuel economy and less detonation rates.
"After a few miles of driving with the catch can on our shop Mazdaspeed 3, we could really see what separates our catch can from the competition." Said CorkSport engineer, Brydon Foster, "After only 500 miles we had separated out a great deal of contaminants from the PCV system. Most of which was water vapor that had been trapped in the PCV lines and engine block. This alone should ensure that oil doesn't break down quickly on the DISI MZR engine."
CorkSport's Oil Catch Can is made from high grade aluminum with a pressed, anodized top cap and includes a chemical resistant sight tube can be used to determine when to drain the can.
The CorkSport Oil Catch Can comes as a complete kit with mounting brackets, five feet of reinforced vacuum hose and all of the needed mounting hardware.
As with all of CorkSport's products, the Oil Catch can comes with a two year warranty, full color installation instructions and knowledgeable telephone support.
The CorkSport Oil Catch Can for Mazda and Mazdaspeed vehicles is available for purchase for just $139.00 from CorkSport.com or by phone at (360) 260-CORK.
About CorkSport:
CorkSport, a leading manufacturer and reseller of Mazda aftermarket performance enhancement products, was founded in 1998 by Derrick Ambrose and Richard Harris. CorkSport's leading technology and innovation, lean manufacturing expertise, and global distribution network deliver world-class products, brands and service at a competitive cost. The company is headquartered in Vancouver, Washington and has dedicated itself to offering high level performance products and support for Mazda vehicles. Today, CorkSport is among the oldest of the aftermarket parts manufacturers in the United States exclusively serving the Mazda market. Visit CorkSport online at http://www.corksport.com