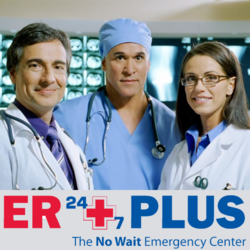 We provide prompt,high-quality medical care that is affordable for every budget.
Houston, Texas (PRWEB) April 30, 2012
Freestanding emergency departments are staffed with experienced board certified physicians and emergency trained nurses and staff, just like a traditional ER. They provide emergency care and medications, laboratory services, CT scanner and x-ray services. They charge the same fees as a traditional hospital based emergency room, and accept all major types of insurance.
Along with their separate location, a FSED also differs from a traditional emergency room by offering no waiting times. This allows patients to be cared for immediately, unlike regular ER's whose wait times ran an average of 6 hours in 2009, with almost 400,000 patients waiting a full 24 hours or more. These wait times are often more than double what physicians recommend for the illnesses or injuries patients have come to be treated for.
Dr. Sandra Schneider, president of American College of Emergency Physicians, says that ER's get backed up while struggling to find enough beds for their admitted patients.
Dr. Assaad Sayah, chief of emergency medicine for the Cambridge Health Alliance in Massachusetts, says this: "It's not unheard of to wait [a long time] in the best hospitals, and even in the best emergency departments. Overcrowding is not just an emergency department problem, but a hospital inpatient problem."
FSED's are able to avoid these overcrowded conditions, enabling quicker, more efficient health care that often saves lives. Dr. Douglas John Harrison, Medical Director of ER 247 PLUS comments:
"The benefit of a free standing ER is the focus on great patient care. If you go to a hospital ER, be prepared to wait for several hours in a cramped and noisy place. Free standing ERs are quiet, provide excellent personal care, and quick service", said Dr. Harrison. "My promise to the patient as the Medical Director of ER 247 Plus is you will receive prompt service by a qualified emergency physician, in a friendly and caring environment."
One of the best of these new facilities is ER 247 Plus, a FSED located in Houston, Texas. Dr. Jack Jensen, Owner and Founder of ER 247 Plus, says this about the importance of such facilities:
"The concept of FSED's is truly expanding in Houston. Patients experience minimal wait times and receive the same level of care provided in a hospital based emergency room. At ER247PLUS we provide prompt, high-quality medical care that is affordable for every budget. As a patient, you are treated by board certified physicians 24 hours a day, 365 days a year. In addition ER247PLUS is fully equipped with laboratory and imaging services all dedicated to the patients we serve."
FSED's like ER247Plus in Houston are positively changing the way emergency medical care functions in the United States.