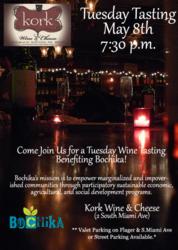 Tuesday May 8: Sample Kork's selection of wine and cheese! $20 donation benefits Bochika's programs that empower marginalized and impoverished communities in Haiti, Colombia and Miami
Miami, FL (PRWEB) April 30, 2012
Bochika and Kork invite the public to a Charity Wine Tasting, 7:30 pm, Tuesday, May 8 2012 at Kork Wine & Cheese, Miami's most unique new bar. These drinks come have a purpose; all proceeds support Bochika's programs that empower marginalized and impoverished communities in Haiti, Colombia and Miami.
Miami's only modern-day speakeasy, Kork Wine & Cheese, will provide a delicious sampling of Argentinian Black Cabra wines - Malbec and Sauvignon Blanc varietals. Kork is conveniently located in the heart of Downtown Miami on 2 South Miami Avenue.
The event is open to the public, and the ticket price is a $20.00 tax-deductible donation to Bochika, a 501c3 charitable organization.
Advanced ticket purchases online are strongly encouraged, please click here to RSVP and buy tickets now: http://conta.cc/bochikawinetasting.
Please share this event on Facebook: https://www.facebook.com/events/307396109336805/. For questions, contact Phillip Rincon of Bochika at 786.529.2010 or info(at)bochika(dot)org.
About Kork Wine & Cheese:
Reminiscent of a modern speakeasy with wood floors, over-sized leather couches and iron chandeliers, Kork Wine & Cheese joined the burgeoning Downtown Miami restaurant and nightlife scene in fall 2011. Conceptualized by Will Edwards, award-winning music producer and owner of long-time Brickell favorite Transit Lounge, Kork is a 3,000 square-foot, dual-level wine bar, cheese shop and underground cellar. Patrons can select from over 3,000 bottles of wine, available both by the bottle and glass, with bottles available for retail purchase. The hidden gem of Kork is its underground wine cellar, formerly a bomb shelter during the Cuban Missile Crisis in the 1940s. The downstairs retail and tasting cavern, with a special "Rare Room" that offers a broad selection of rare and limited vintages, now houses a long wooden communal tasting table, over 3,000 bottles of wine and live jazz Thursday through Sunday. Kork Wine & Cheese is located at 2 South Miami Ave in Miami, Florida.
About Bochika:
Bochika is a 501c3 not-for-profit organization headquartered in Miami FL. Bochika's mission is to empower marginalized and impoverished communities through participatory sustainable economic, agricultural, and social development programs. To fulfill this mission, Bochika builds partnerships with community-based organizations and provides training, tools, and technology that promote organizational development, increase social impact, and enhance global visibility. In its first year of existence, Bochika was awarded major grants to fund programs in Haiti and Miami, selected to lead a 120-person Capacity Building seminar in Colombia, and acknowledged for its innovation and commitment to change by former President Bill Clinton. To learn more, visit http://www.bochika.org.