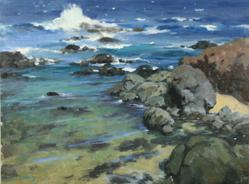 This workshop is one I have taught several times in the last few years and I love to paint the colors of the tropics." says, John Cosby
Kihei, Hawaii (PRWEB) April 30, 2012
"We put together these two workshops especially for painters who really want to further their painting skills as well as their painting careers" said Jan Bushart, President and Founder of Plein Air Painters of Hawaii. "John Cosby is uniquely qualified to teach both plein air painting (painting outdoors) and the business aspects of art."
The John Cosby Workshop is divided into two phases. Phase I will entail a 5-day workshop packed with sites and information designed to move you to your next level. John will be demonstrating and teaching techniques for effectively painting water, rocks, foliage, and adding the figure to a painting. The workshop will run from May 14 to May 18, 2012. Located in Maui, Hawaii, all painting locations are located within 45 minutes of Kihei, Maui, Hawaii. Various locations include different beaches, upcountry views, and exquisite private estates. The fee for this workshop is $650.00 and there are a few spaces available.
"This workshop is one I have taught several times in the last few years and I love to paint the colors of the tropics." says, John Cosby, "Jan Bushart, organizer of the workshop, founder of Plein Air Painters of Hawaii and great painter, always does a fine job finding group-friendly and paintable locations that work for the lessons to be given that day. In the workshop we have many locals with great local knowledge which is very helpful in everything from eating to painting the best locations"
Phase II entails a 3-day mentoring intensive retreat in Hana, Maui, Hawaii. This Plein Air Painting Mentoring Retreat will allow members to gain a more in-depth understanding of John Cosby's lessons. Limited to 10 participants, this will be an intimate group gathering in painting paradise. The fee for this workshop is $300.00
Space is limited. To reserve your space in the Plein Air Painters of Hawaii sponsored John Cosby workshop or mentor program, please go to http://www.papoh.com
Plein Air Painters of Hawaii member, Cheryl Lipstreu, has this to say about PAPOH and John Cosby workshops, "From just one random google search, researching for Plein Air Painting in Hawaii, I happened to stumble upon the PAPOH website. Little did I know the open doors, amazing opportunities and the new world of painting that one mouse click held in store for me and my art career. Working with Mr. John Cosby and participating in the PAPOH workshops has led to not only a visible and viable improvement in my technical skills as a painter, but also to many new and lasting friendships that I will continue to nurture and cherish! Being a PAPOH member has enlightened my life story with the essence and joy that is Hawaii in all her meanings of ALOHA. I hope to keep on painting with these great painters for many years to come!"
Plein Air Painters of Hawaii was founded to foster and promote the advancement of Plein Air Painting in Hawaii. It has over 150 members and sponsors workshops, exhibitions, and paint outs on different islands in the state. The next paint out will be held on Lanai, June 19 – 22, 2012. For more information including how to become a member and participate in these events, please visit http://www.papoh.com