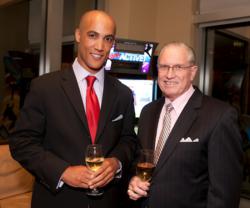 Leesburg, VA (PRWEB) April 30, 2012
On April 20, Lawrence Stanley, President and Founder of the The Cap-X Group, and members of The Future Fund, the Community Foundation for Northern Virginia's young professionals giving circle, hosted the 2012 FUTURE FUND AWARDS GALA: A NIGHT TO PLAY IT FORWARD at the Westin Gateway in Arlington. The House Inc., and Liberty's Promise, two nonprofits working in the field of Child and Youth Development, were awarded with grants of $25,000 each. "These children represent our future leaders," noted Stanley, 'As we continue to raise money and support this worthy cause, they too will absorb the value of giving," remarked Stanley. "The Future Fund has more than broken the surface, and I too am looking forward to extending this worthy cause throughout my professional network and beyond" Noted Stanley. More than 300 guests danced the night away on a colorful LED dance floor, accompanied by light hors d'oeuvres and colorful desserts compliments of Georgetown Cupcake! Games were spread throughout the venue, and a silent auction of vacation getaways, sports tickets, theater tickets, and experiences help support 2012-2013 Future Fund grant-making.
To learn more about joining The Future Fund and the grant-making process, visit http://www.cfnova.org/futurefund.
The Future Fund is a giving circle of more than 100 young professionals at the Community Foundation for Northern Virginia. Members of The Future Fund connect with each other personally and professionally, learn about the critical needs of our region, and donate (at affordable levels) to the philanthropic causes they care about most—a unique an exciting opportunity to pool contributions to benefit the community where we live and/or work!
Lawrence M. Stanley, Managing Partner and Founder, launched and developed The Cap-X Group in 2007. Lawrence's responsibilities include strategic program Design and business development. Mr. Stanley received his undergraduate degree from The University of Maryland at College Park, MD. In addition Lawrence has over 15 yrs. of Healthcare management experience. Prior to the Aetna, US Healthcare merger in 1996 he was responsible for the development of US Healthcare's Medicare Risk program. In 1998 he established Health Management Solutions, Inc. a health insurance brokerage providing health benefits on behalf of employer groups for their employees. Prior to the creation of CXG, in 2000 he launched Cardiac Medical Services, Inc., a cardiac diagnostic service, which manages patients with varying degrees of heart arrhythmias. Lawrence has served on the Advisory Board of Governors to Club Corporation in Leesburg, VA. He also served as the Ambassador of the 'A Mind is Society' and is an active participant with the Young Business Leaders (YBL) an affiliate of the Community Foundation of Northern Virginia.