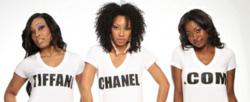 It's a great place to shop and customers can always expect reasonable prices, a beautiful atmosphere and excellent customer service
Houston, TX (PRWEB) April 30, 2012
Tiffani Chanel Luxury Hair will soon open its second Houston Area boutique in the centrally located Reliant Stadium area in Houston.
The Grand Opening celebration will begin on Saturday, June 9, 2012 at 1:00 pm and purchases made between the hours of 1-5 will be 10% off. Guests will be offered refreshments and giveaways throughout the day.
Unlike the existing North Houston mini-boutique, the new location will feature an open showroom layout and will offer the company's entire product line including the Exotic Virgin Hair line, the Indian Remy hair line, Clip-In and Taped wefts, Lace Wigs, Microlinks, the new Men's Line, Lashes and Brows, unique jewelry and clothing and much more.
The elite, posh boutique will have privacy booths, which may be useful to customers experiencing hair loss and will be decorated in a palette of white, hues reminiscent of sea, sky and sand, interspersed with modern touches of chrome and crystal. Tiffani Chanel Luxury Hair aims to achieve an almost lounge- like feel with softly emanating music, in a welcome and happening environment.
"Like our first boutique, our new boutique will be a great place to shop and customers can always expect reasonable prices, a beautiful atmosphere and excellent customer service." says owner Tiffani Speller.
The Reliant Stadium area boutique will open on Friday, June 1st and is located at 2578 610 Loop South, 77054, (Next door to Spice Boutique/Smoke Emporium and across 610 from Pappadeaux's Seafood).