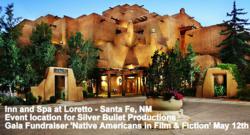 Santa Fe, New Mexico (PRWEB) April 30, 2012
Silver Bullet Productions biannual fundraiser, a Featured Event on the SantaFe.com May calendar, will be held at the beautiful Inn and Spa at Loretto in Santa Fe. The banter of Award-winning author Michael McGarrity and actor, director and activist Wes Studi, moderated by Kirk Ellis, will engage you in the evening's theme, "Native Americans in Film & Fiction." You are invited to participate in this lively discussion. Simply send your question by May 10 to pampierce@silverbulletproductions.com.
The evening will begin with a silent auction of more than 50 high-quality items plus cocktails and appetizers. Following the silent auction, you will be mesmerized by McGarrity, Studi and Ellis before a seated dinner and then a live auction of 10 wonderful and unique items, led by Paul Margetson and Ali MacGraw. If you have followed the rave revues of the Luminaria Restaurant, you know the quality of the food and atmosphere to expect from the Inn and Spa at Loretto. Those attending will receive either a gift certificate for Michael McGarrity's newest book Hard Country to be released in June 2012, or a Wes Studi film DVD.
Tickets are $150 per person ($90 is tax deductible). Tables of eight are available. Seating is limited. Money raised by this event will fund projects that fulfill the goal of engaging rural and Pueblo students in hands-on filmmaking which empowers them, enhances their academic and economic opportunities, and preserves community, culture and heritage. Such projects include suicide prevention workshops in Pueblo communities as well as the development of documentaries such as "Canes of Power."
Ticket Info Purchase Tickets Online or by phone at 505-820-0552 Individual ticket: $150; Table of 8: $1200
About Silver Bullet Productions:
Silver Bullet Productions' mission is to encourage educational achievement through a hands-on approach to filmmaking projects that empower students, enhance academic and economic opportunities and preserve community culture and heritage. Silver Bullet Productions is a non-profit 501(c)(3) educational film production company, incorporated in New Mexico.
About SantaFe.com
SantaFe.com provides locals and visitors to Santa Fe alike the most current interactive platform for events, music, arts, business, dining and lifestyle. SantaFe.com is a division of Hutton Broadcasting, located at 2502 C. Camino Entrada, Santa Fe, NM 87507
Contact Information:
Scott Hutton
SantaFe.com / Hutton Broadcasting
http://www.santafe.com
(505) 471-1067 (Media inquiries only, please)