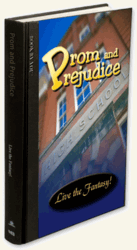 From football games, cheerleaders to student rivalries to prom night—all in one hilarious and suspenseful personalized novel
London, ON (PRWEB) April 30, 2012
BookByYou.com is the world's leading publisher of personalized books and, through its TeenBookByYou.com imprint, has re-released its popular personalized teen novel, "Prom and Prejudice." In this personalized novel, a smart, prank-playing jock clashes with a clever cheerleader as they're caught up in an escalating series of adventures leading up to the prom. All the fun and frenzy of high school—from football games, cheerleaders to student rivalries to prom night—all in one hilarious and suspenseful personalized novel.
Readers co-author "Prom and Prejudice" by visiting TeenBookByYou.com and completing a character questionnaire with over 30 features to personalize, including the heroine, hero and friend's names as well as attributes such as hair color and length, eye color, and body type… even include a dog or cat. Customers can also upload a picture for the back cover of this 170-page hardcover or paperback novel. In addition, the company offers a free demonstration area where readers can preview personalized excerpts from each of the company's 44 novels.
BookByYou.com is an interactive publishing company and its personalized books have been featured on ABC's The View, CBS Early Morning, CNN, Jimmy Kimmel and in USA Today and the Washington Post.
Media interviews, promotions and give-aways are available upon request. Please contact Michael Pocock at 1-877-898-1440 or publish(at)BookByYou(dot)com.
###