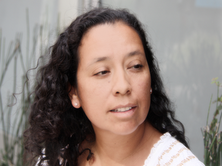 It is time to satiate my need to be feared, loved, and known.
Los Angeles, CA (PRWEB) April 30, 2012
April 30, 2012 - Marjorie Diaz has come aboard content creation company Raging Artists, Inc. as COO/Executive Producer. The move formalizes a relationship that began earlier this year with several projects overseen by Diaz. At Raging Artists, Diaz will be responsible for overall operations, with a focus on production and marketing.
"We've reached a stage where Marjie's unique talents are called for on a continuous basis, and we pulled out all the stops in wooing her to join us," said Founder/CCO Hershel Rephun. "The commitment and facility she brought to our stand-up shows and video productions inspired us to accelerate things." Diaz co-produced Raging Artists' "Beyond The Brick Wall" comedy events at Saba Sushi and the Main Room at Flappers in February and March, respectively. Both stand-up shows were filmed for use in the company's Web series of the same name; the latter was hosted/produced by Rachel Reilly (The Amazing Race, Big Brother) with Rich Aronovitch (Comedy Central, The Tonight Show with Jay Leno) headlining.
Prior to moving into entertainment, Diaz spent 11 years creating, developing, and producing programs, conferences and specialized events at all levels at the Los Angeles County Bar Association (LACBA). Her courage, creativity and production value led to the successful creation of LACBA Premiere Courses, which grew into an annual product showcasing LACBA as a leader in creative content delivery. Diaz' efforts also helped establish LACBA as a technological leader. During her tenure, she produced some of the organization's largest events ever, including the Grand Opening and reintroduction of LACBA to the city of Los Angeles.
"It is time to satiate my need to be feared, loved, and known," said Diaz of her move to RA. "Raging Artists is a singular environment in which every team member's creativity is encouraged. Who wouldn't want to come to work in a place like that?"
Diaz's current projects at Raging Artists include two pilot presentations: THE GENTS, a scripted comedy series about a fictional record label scouring YouTube for new artists; and BEYOND THE BRICK WALL, which explores today's LA standup comedy scene. She will also oversee the DVD/digital release of the award-winning documentary "GORK!"
About Raging Artists
Raging Artists creates and markets original content, while empowering others to do the same. The artistic soul suffers in "normal society" so it is fitting that RA embraces the kindred spirits of tragedy and comedy. We all experience pain, and we convert those experiences into entertainment through the prism of comedy – we call it enterpainment. There are no boundaries within these walls, only sledgehammers aimed at preconceptions. Be loved. Be feared. Be known.