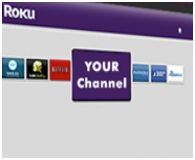 Change The Media Change the World!
Atlanta, GA (PRWEB) May 08, 2012
NetworkDVR.tv launches "Solution For Roku." This customized software solution is built for Streaming VIDEO to ROKU and similar IPTV devices.
NetworkDVR.tv custom builds a simple to use web browser based interface that is operable from any computer. The interface allows any person to run a "Streaming Television Network," Roku Channel from anywhere they have internet access . With a few simple mouse clicks a client of http://NetworkDVR.tv/ can deploy live streaming content to a ROKU device or to a multitude of devices. Any live stream broadcast is also recorded at NetworkDVR.tv for 'Video On Demand' play back from a "Branded STN Channel" at a later time on devices like ROKU.
With our VOD service an STN owner can also upload videos and manage a programming schedule that will automatically run the Videos in sequence with placed ads as well as syndicated content on a 24/7 schedule if desired. NetworkDVR.tv provides a built in interface that allows the client to schedule their own ads so that monetization of the Roku Channel can become as profitable as possible. The client owns the content and can sell and manage the ad time as well.
The market is brimming with internet enabled appliances these days and NetworkDVR.tv Streaming Television Service allows the user to broadcast steaming SD HD and coming real soon 3D. NetworkDVR.tv can stream your media to Roku devices, PlayStation, XBox360 and Wii game consoles, Panasonic and Samsung Smart TVs. The NetworkDVR.tv streaming service will also stream to smart phones like Android, Blackberry iPad and iPhone.
NetworkDVR.tv's plug and play approach will allow a novice or a fully educated broadcast engineer to deliver live or VOD content to their audiences across the full spectrum of viewing devices with an ease not before attainable in the industry until the launch of NetworkDVR.tv's "Solution For Roku" came along.
NetworkDVR.tv, is a Georgia based company that was established in 2012 and has quickly grown to become "One of the Largest ROKU Channel" providers. Our goal is simple, to offer a wide variety of live and VOD TV channels online, no matter where you are. All of the NetworkDVR.tv plans include submission to the Roku Channel Store. New clients will also receive a free RokuXD device to watch their Streaming Television shows with.
Find out more about NetworkDVR's Streaming Television Media services
NetworkDVR.tv
55 Marietta Street
Suite 1740
Atlanta, GA 30303
Greg Hedgepath at 770-380-7167.
http://NetworkDVR.tv/
@NetworkDVRtv
http://Facebook.com/NetworkDVRtv
# # #