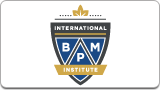 (PRWEB) May 02, 2012
International BPM Institute is a Ministry of Training, Colleges and Universities consented, Canadian registered International Business Education Institute, dedicated to the essential and growing need for online Business Process Management (BPM) education, training and certification.
International BPM Institute a leading global BPM training and certification institute, is pleased to announce the launch of its new browser-based mobile learning BPM certification program.
In today's fast paced environment, much of workforce time is lost sitting on trains, buses, sitting in waiting rooms, waiting in line and killing time between meetings and in coffee shops.
Imagine people can learn while they ride the train, review lessons while waiting at doctor's office, write an assignment in the coffee shop or between meetings, access video tutorials while enjoying lunch or review assignment with teacher while standing in line.
Any free time people have can be their own private classroom, library, or study hall and literally have access to an entire world of learning opportunities to advance their career and life.
IDC projects the mobile workforce to reach 1.3 billion, up from 1 billion in 2010, which is a staggering 37.2% of the workforce worldwide.
The workforce culture is moving toward mobile, and is looking for a solution that fit their lifestyle and not tied to the desk.
With mobile BPM courses, International BPM Institute has the ability to reach a specific audience, global or field workforce, hard-to-reach, on-the-go busy population looking for the convenience and flexibility that the mobile platform could provide to fulfill their professional career need.
With this latest offering International BPM Institute continues to employ its wealth of expertise in creating, delivering and tracking cutting-edge BPM training solutions. Tested successfully on the iPhone, iPad, Blackberry Torch, Android, and Window, this new browser-based BPM course can be accessed from any smartphone, tablets, and laptop or desktop. The user can switch between devices with no interruption to their access and no synchronization.
"Productivity happens where people are comfortable and using devices that are most comfortable for them," says David Clarkson, HR manager at Cisco Canada, which has a BYOD policy. In fact, 61% of employees feel happier and thus more productive when using technologies of their choice, according to a survey of 2,000 people conducted for VMware.
J Ben Benjamin, Mobile BPM Program Strategist of International BPM Institute, commented: " International BPM Institute is delighted to introduce our new browser-based mobile BPM courses, enabling professionals to access crucial, time-sensitive courses from their smart phones, tablets or laptops. We are confident that this new mobile courses will serve to maximize professionals, by placing up-to-the-minute information at their fingertips wherever they are.
This is the first in a series of mobile course that includes M-CourseVIDEO, M-CourseCONTENT, M-CourseBLOG, M-CourseTEST, M-CourseSTATS and a new M-CourseBLOG Video and Audio feature, to be launched in the current quarter, in our efforts to consistently bring real-time communication and innovative means of social knowledge sharing professionals, enabling them to extend their reach and create a deeper and more meaningful connection with their peers."
Our Mobile course platform automatically detects the type of mobile device and browser and serves up pages that are dynamically scaled to available screen real estate.