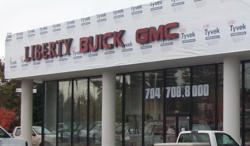 "This is not your grandfather's truck," says McCorkle of Liberty Buick GMC Trucks
(PRWEB) May 18, 2012
GM invested enormous amounts of cash into the new 2013 Sierra Truck. Not everyone has had the opportunity to take a sneak peek at the results but Charlotte NC GMC Dealer Scott McCorkle reports that this new truck is completely different. "The biggest changes have been to the exterior but not just to update the look." says McCorkle "They have redesigned the exterior to improve gas mileage." McCorkle wants to clear up any misconceptions about trucks. McCorkle says trucks have been stereotyped and he fears some people assume trucks are not comfortable. "This isn't your grandfather's truck," says McCorkle. "You know a long time ago, trucks were for hauling bricks. Today that's not the case," adds McCorkle. It's true that trucks used to be driven by consumers out of need and at expense of comfort and luxury. Today that isn't the case and McCorkle wants potential customers to know it.
Today's trucks are 100 percent equal in comfort and luxury standards to passenger vehicles and sedans. As a matter of fact, McCorkle says they are passenger vehicles. From leg room to stereo systems, GM trucks come standard with the same incredible features that are offered in other vehicles.
"There are just too many customers out there who prefer a truck for us to see them as any other product than an everyday vehicle for many Americans," says McCorkle.
The GMC Sierra is a great example. The interior options include bucket seats separated by a large center console and state-of-the-art audio and ventilation systems and controls. The Sierra Denali is a comfortable, luxurious pickup with an emphasis on performance rather than towing capcity. It offers the same sort of upscale features as any other passenger vehicle.
Stereotypes about trucks are a mistake. In addition to the great luxury features available on all GM trucks, says McCorkle, there are other advantages too. "You right high in a truck and it offers great visibility." Plush seats and a great view are great advantages in a vehicle that has the ability to haul materials and help out when preparing for a vacation too.
And finally McCorkle says, "The ride is just as smooth as can be." Riding in today's trucks and SUVs isn't like riding in your grandfather's truck. The ride is great, relaxing and can be luxurious.
If you've already been sold on being one of America truck owners then it's time for a new one. If not, come by Scott McCorkle's Liberty Buick GMC Trucks today or call 866-442-0871. You can all visit the website today at http://www.clickliberty.com to see the incredible selection of trucks and other vehicles available.