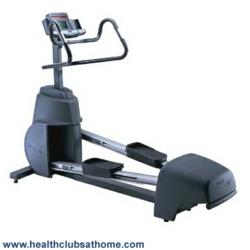 Its great to be able to have a piece of equipment in the home that can offer so many fitness benefits in one package
(PRWEB UK) 22 May 2012
Health Clubs at Home are specialists in providing commercial gym equipment for the home. From Treadmills to Rowing Machines to Cross Trainers, Health Clubs at Home can provide it all. In fact with well over 5000 machines to choose from, it really is possible to find the right machine.
April saw the highest figures of commercial Cross Trainer sales, especially for domestic use. It's no surprise that Cross Trainers are becoming so popular in home fitness. They are compact and can be used to work the upper and lower body at the same time. They also offer an unrivaled variation in workouts, whether it is used for interval training or continuous endurance training.
Managing Director Howard Braband is a firm believer in the importance of these machines. 'I have always used Cross Trainers for the sheer fact that they can do anything I need them to do. They offer something everyone wants, variety and a challenge. We have Cross Trainers for sale that can offer all of that and more.'
This trend seems to have been emerging for a while, have gradually risen over the last few months up to this record-breaking month. With health and fitness at the top of most people's agenda, people are always searching for the ways to get the most of something for the cheapest price. This is what Cross Trainers offer. They work for men and women and the settings mean that they can challenge people at every levels, so having one in the home means that it will never be out of use or be outgrown.
'Whenever we get customers come to the showroom it is not rare to see them come in set on the idea of a Treadmill for the home,' says Howard 'but a lot of the time they see the benefits of a Cross Trainer and end up walking out with a completely different machine!'
Health Clubs at Home are dedicated to suiting every need and budget. With a fantastic showroom full of machines the abundant choice and a staff of highly trained fitness experts rest assured every choice that you make will be a fully informed one.
No need for an appointment, just pop down to the showroom for a visit to see our vast range of Refurbished Gym Equipment, or why not browse online at http://www.gymkituk.com. If you wish to speak to someone concerning any of our machines then please call us on Freephone 0808 231 4876.