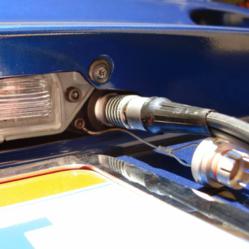 The Stealthlink Charger connection system is an ingenious way to easily keep a Corvette's battery charged during the winter months
Marietta, GA (PRWEB) May 23, 2012
The Stealthlink Charger connection system is a highly adaptable, aircraft quality link between the Corvettes battery and a CTEK battery charger. The Stealthlink system is a convenient and creative fix for the pains of lifting the hood, popping the hatch, or opening the trunk to connect to a battery charger. The StealthLink takes an aviation grade push/pull connector and utilizes this as the connection point of the charger. No more cords routed through open hatches, hoods, windows, or trunks. Additionally, there's no interference with car covers, no more access points for pests or rodents to enter, and reduced vulnerability to scratches.
An aviation grade "push/pull" receptacle is mounted on a custom designed bracket designed for the Corvette C6 or C6. The bracket assembly is fitted with the appropriate length wire and secured to the vehicle. The negative wire is routed to a chassis ground and the positive wire is fitted with inline fuse protection and attached directly to the battery. The Stealthlink connector from Southern Car Parts is fitted with a CTEK connector, so connecting to the a CTEK charger is made simple. The Stealthink Charger Connection gives the Corvette Park-n-Plug capability.
With the "Remove Before Flight" window reminder, you no longer have to be concerned with vehicle movement while your charger is still connected. Just stick the tag on the window to remind drivers to disconnect the charger before driving.
For more than seven years Southern Car Parts has been developing a strong reputation and following in the performance automotive market and has expanded from only dealing with Corvettes Parts and Accessories to also incorporating the Chevrolet Camaro, Dodge Challenger, Ford Mustang, Nissan 350Z and 370Z, and Nissan GT-R into their product line as well. In that time they've reached a wide and loyal consumer base who returns to them for their shopping needs as result of SCP's dedication to top-notch and expedient customer service and highly discounted pricing structure. The introduction of the new Stealthlink Corvette package is certain to help SCP continue their growing positive reputation of high quality performance car parts and accessories.