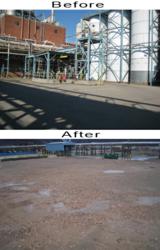 Pittsburgh, PA (PRWEB) May 01, 2012
Phoenix Equipment leveraged it's ability to purchase and resell chemical process equipment to drastically reduce the cost of the associated demolition, environmental and asbestos abatement work. Phoenix safely dismantled and rigged out at its own expense over 50 pieces of process equipment for resale, including: (5) 6,000 Gallon Stainless Steel Reactors; (1) 15,000 Gallon Stainless Steel Reactor; (2) Gala Pellet Dryers; (5) Nash Vacuum Pump Skidded Systems; (1) 135 Cu. Ft. Stainless Steel Ribbon Blender and Dozens of Shell & Tube Heat Exchangers and Stainless Pressure Vessels & Tanks.
The experienced team of petrochemical dismantlement and demolition experts safely completed the entire project in just over eight (8) months. Performing such work within an active plant required an acute attention to detail and highlights their safety record and ability to perform highly complex projects.
Prior to dismantling the plant and several other areas within the larger remaining operational site, Phoenix had to perform the asbestos abatement in various areas (work was subcontracted to a licensed abatement company); line break and remove Maleic Anhydride and Styrene from piping after developing safe and cost efficient methodologies to accomplish the removals; and removal and packaging of "Universal Waste" (i.e. fluorescent tubes, ballast, transformer and equipment oils, etc.).
Besides some of the routine challenges encountered while performing dismantlement and demolition operations within active remaining plants, Phoenix had two major areas of concern that required extensive planning and expertise.
The first area involved taking down a 110'0" high main process building which had a party wall with a remaining one (1) story warehouse. The process building's elevator was located within the remaining warehouse, passing thru the warehouse's roof to service the process building. Phoenix personnel used a 150 Ton crane to lift off the elevator structure and the upper portions of the process building, utilizing a manlift with a 125'0" high working platform for personnel to make cuts for the removals.
The second major challenge entailed the removal of a deteriorated 135'0" high steel water tower. The tower was located near two elevated pipe bridges and an active office building, leaving only a 60'0" wide corridor for the tower's removal. The crew first had to cable portions of the weakened tower together prior to using a 300 Ton crane for the actual lift. The crew utilized a manlift with a 162'0" working platform.
The crew of 12 utilized a 450 Daewoo excavator equipped with a grapple, a Komatsu PC300 excavator equipped with a shear, 75 ton Grove mobile crane, three (3) 843 Bobcats, a forklift and a lull to demolish the plant and other areas without an incident. Phoenix also crushed the masonry materials created by the work to 2" minus and spread the material over the site, which alleviated the need to import gravel and saved our client substantial amount of money.
Phoenix completed the entire project on time and on budget, and most importantly without any safety incidents.