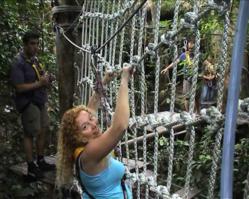 Here, in between invigorating zips, prepare to take on an aerial obstacle course of 16 challenges, including suspended bridges, spider nets, Tarzan jumps, and flying swings.
Bangkok, Thailand (PRWEB) May 02, 2012
Flight of the Gibbon's Zipline Canopy Tour in Chonburi, one hour outside of Bangkok or Pattaya in the Thai rainforest, was rated one of fifteen coolest ziplines in the world by travelandleisure.com in their April edition. Flight of the Gibbon was the only zipline adventure included from Asia. http://www.travelandleisure.com/articles/worlds-coolest-ziplines/13
In addition, Go Gibbon, an aerial obstacle course and jungle gym, which is located in the rainforest with the zipline course, was included as part of the overall experience. Go Gibbon includes 16 challenges, including suspended bridges, spider nets, Tarzan jumps, and flying swings.
Up to three kilometers of ziplines propel visitors through different layers of the rainforest canopy. There are 24 different outlook platforms, abseils down from tall trees, sky bridges and several variations of zipline flying to experience. Highly trained Sky Rangers accompany each group assuring safety and sharing information about the rainforest wildlife and eco-systems. Each adventure includes about 3 hours up in the treetops, lunch, and entry to Khao Kheeo Open Safari and the Chompoo Wildlife Sanctuary just minutes away.
Flight of the Gibbon zipline canopy tour can be experienced by anyone between the ages of 5 and 95 years of age. There are some weight restrictions.
Transportation to Chonburi, about one hour from either Bangkok or Pattaya is provided in air-conditioned, deluxe vans.
Flight of the Gibbon also has a second zipline canopy tour located just outside Chiang Mai, northern Thailand, in Maekompong village. Visit http://www.treetopasia.com for more information.