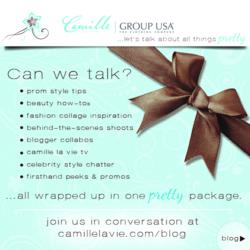 We are looking to push the envelope in all creative, visual and promotional efforts.
Secaucus, NJ (PRWEB) May 02, 2012
With 24 stores across the nation and Puerto Rico, including their shopaholic conscious e-commerce store, a vast collection of fashions comprising of various on trend styles and a chic brand identity, Camille La Vie & Group USA have a lot to talk about! Among the many new social media efforts, Camille La Vie & Group USA is launching one in particular that will create a major fashion buzz...the new Camille La Vie & Group USA blog. Recently launched on March 29, 2012, this major retailer's blog will offer several helpful and entertaining posts spanning many style worthy topics.
With the Prom season in full bloom coupled with the brand's passionate mission in offering their customers only the very best styles to fulfill their dream dress wishes, Camille La Vie & Group USA has decided to offer not only the most alluring fashions but also a daily dose of Prom dress must-haves, style inspiration, beauty tips, addicting mood boards, celebrity style gossip and behind-the-scene looks into their fabulous fashion shoots. In addition to these exciting posts, Camille La Vie & Group USA will also be collaborating with the world's top fashion bloggers to grasp their personal know-how's and interpretations on how to style their own selection of Camille La Vie & Group USA Prom dresses, jewelry, handbags and evening clutches, as well as fierce footwear. And if that was not enough, all of their readers and customers can take part in the fun by participating in their ongoing Prom dress promotions, exciting contests and enticing giveaways. Ecstatic about the new social media launches, Marketing Manager, Carla D'Amico, says "We are looking to push the envelope in all creative, visual and promotional efforts. It's really important to enhance the consumer experience by creating a great feeling and lifestyle to our brand. We will certainly achieve these initiatives with the blog and all of our other social media vehicles."
Along with their new fashion blog, Camille La Vie & Group USA has also recently added a must-see range of other wonderful social media sites, including their Tumblr blog, Pinterest, Polyvore and eye-candy Instagram photos. You can even check out their catalog of beautiful dresses on the Google Catalogs app, have style chats on their Twitter, check their up-to-the-minute posts on the Camille La Vie Facebook Page, as well as peruse their many clips of inspirational video footage on YouTube.
To grab your daily dose of all the fashion news and "pretty conversations" that Camille La Vie & Group USA has to offer, visit their blog and many of their other fun-filled social media sites.
About Camille La Vie & Group USA
Camille La Vie / Group USA is a major destination for prom dresses, homecoming dresses, wedding dresses, social separates, day into evening dress styles, bridal, formal accessories, jewelry and shoes. We offer one of the most extensive and stylish collections of special occasion dresses that can be found under one fabulous roof! Since its inception in 1985, the company's motto of "to provide customers with the latest dress fashions at an affordable price" has made them a leading retailer in virtually all categories. To date, the company has expanded to 16 Group USA stores and eight Camille La Vie stores nationwide.
In select Camille La Vie / Group USA stores, customers will discover Camille La Vie's collection of bridal apparel including wedding dresses, bridesmaid dresses, flower girl dresses, mother of the bride dresses and guest of wedding dresses. Camille La Vie also provides bridal alteration and consulting services.