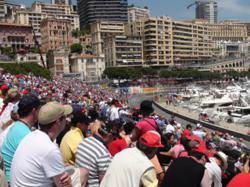 'It seemed like a really good fix partnering with accommodation specialists Your Nice Apartment as we can now offer all our activities, like wine tasting, boat trips, helicopter rides and the Grand Prix package." Mira Guchan (Friend in France Director)
(PRWEB) May 03, 2012
Property management company Your Nice Apartment has teamed up with Friend in France as part of their preparation of gearing up for the Monaco Grand Prix between 24th - 27th May 2012.
By putting together Grand Prix packages for guests wanting to stay in Nice and who want to enjoy the spectacle that is the Monaco Grand Prix in Monte Carlo, staff at Your Nice Apartment will be advising customers to choose the right holiday rentals Nice has to offer.
'We understand that many of the guests that book our holiday apartments and villas in Nice during the end of May are there to enjoy the racing at the Monaco Grand Prix, so this year we have teamed up with a partner company Friend in France to offer a full Grand Prix package. Airport transfer, Accommodation, transport to and from Monaco and tickets to watch the qualifying and races. It makes it easier for people if they can have the whole package.' Says Simon Walker (YNA Director)
Guests who stay in apartments in Nice for the Monaco Grand Prix can and do find it hard work having to organise their own transport and find out where to buy tickets for the different days. However by having someone take this hassle away from them, it makes the perfect break that much less stressful. Your Nice Apartment partners, Friend in France are a company who specialize in activities on the French Riviera and therefore have a local knowledge that makes a perfect fit.
'It seemed like a really good fix partnering with accommodation specialists Your Nice Apartment as we can now offer all our activities, like wine tasting, boat trips, helicopter rides and the Grand Prix package along with stylish accommodation." Mira Guchan – Mclean - (Friend in France Director)
The Monaco Grand Prix is a Formula One race held each year on the Circuit de Monaco. Run since 1929, it is widely considered to be one of the most important and prestigious automobile races in the world, alongside the Indianapolis 500 and the 24 Hours of Le Mans. The circuit has been called "an exceptional location of glamour and prestige."
Your Nice Apartment specialises in stylish apartments and luxury villas to rent on the sun drenched French Riviera and serviced apartments and houses to rent in London, one of the most exciting capital cities in the world. With live up to date calendars and on line bookings they provide a simple way to enjoy holidays in Nice and find and book stylish self catering Nice holidays on the French Riviera and short stay Apartments London. They have a wide selection of high quality Nice apartments for rent and central London apartments for rent in prime central locations.
For more information please visit http://www.yourniceapartment.com/