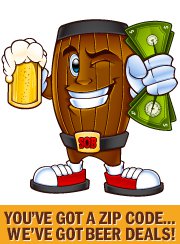 No Cinco de Mayo party would be complete without Corona, but why stop there?
Houston, TX (PRWEB) May 03, 2012
Many Americans falsely presume that Cinco de Mayo is the celebration of Mexico's Independence. However, it's actually the celebration of Mexico's victory over France in the Battle of Puebla in 1862. The Mexicans showed they would not be bullied for debts and their bravado impressed the world, which is why the holiday holds some significance south of the border. Yet, marketers have pitched Cinco de Mayo to Americans as yet another a "drinking holiday."
A new website, SaveOnBrew.com, tracks 300,000+ beer prices in zip codes nationwide, letting beer lovers search for the lowest prices on their favorite brews. SaveOnBrew does not work by crowd-sourcing, which is considered an unreliable way of beer price tracking -- but rather, is cross-referenced with thousands of online circulars by real, live people.
"I don't like 'Hallmark Holidays' like Valentine's Day that say I have to buy my wife lobster and take her on romantic getaways to some $300-a-night ski chalet in Vermont," says SaveOnBrew's Greg Thibodeaux, "but I am all about Cinco de Mayo – a holiday that tells me it's okay to drink beer with my friends and get sloshed any day of the week."
In celebration of Cinco de Mayo, SaveOnBrew.com would like to announce that they're tracking thousands of circulars to find the best prices of beer on popular Mexican beer brands like…

Tecate: an American-style pale lager with a light, sweet aroma; low hop bitterness; pleasing carbonation; refreshing flavor; great for backyard barbecues.
Modelo Especial: light lager; sweet corn flavor; undetectable bitterness; lingering chlorophenol aftertaste; good alternative to Heineken or Corona.
Negra Modelo: full-bodied amber lager; caramel body; roasted notes; light bitterness; good alternative to German imports.
Dos Equis: pale lager with minimal hops and low corn aroma; hints of green apple flavoring; no bitterness; empty aftertaste; refreshing warm weather beer.
Corona: pale lager with hints of hops, malt, astringency and skunky aftertaste; good with lime; popular American barbecue / summer party beer.
"No Cinco de Mayo party would be complete without Corona," explains Thibodeaux, "but why stop there? With our beer price tracker, you can discover beers you may not have considered before – and beers that are ON SALE in your area, to boot!"
In addition to publishing hundreds of thousands of beer prices in their database, SaveOnBrew.com also strives to educate beer drinkers (by publishing resources like "How To Cure A Hangover" and "How To Play Popular Drinking Games") and entertain them as well (with blogs like "Best Beers To Give Your Friends For An April Fools' Joke" and "America's Most-Hated Beers").
About SaveOnBrew.com: Founded in 2010 to help thirsty beer drinkers across the United States find the lowest advertised prices for one of the world's most popular beverages.