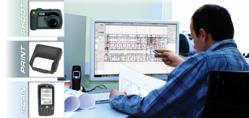 We analyzed different programs and went through various demonstrations. The eBMP from STI was the only system that exceeded my expectations and criteria.
-- Renee Robinson Jacobs, CHFM, CHC
Somerville, NJ (PRWEB) May 02, 2012
During her more than 20-year career of construction project management and healthcare facility management, Renée Robison Jacobs, a Certified Healthcare Facility Manager and Certified Healthcare Constructor, has had to repeatedly deal with the lack of an effective fire barrier management system. When she became Vice President of Facilities and Construction at Saint Luke's Health System in Kansas City, MO, Jacobs made it her priority to implement a program that would ensure the integrity of fire barrier systems in the new $330 million master plan addition to Saint Luke's Hospital campus including a new heart hospital, women's center and energy center. She determined that the incremental cost of implementing such a program into the firestop installation would provide a tremendous payoff by reducing future liability and costs.
CRITERIA BASED ON EXPERIENCE
Based on her experience, Jacobs knew exactly what she wanted in a barrier management program. She had worked on other systems in other hospital organizations over the years and none had proven satisfactory. "For example," she explained, "I brought a system to another hospital organization where we had to marry up several individual components that didn't talk to each other. In order to effectively manage the system and provide accurate reporting, I had to find independent components and make them work together." When she came to Saint Luke's she contacted MTS Contracting, a local FM 4991 firestop specialty contractor with whom she had previously worked, and explained, "I have a new building and I need a system to control the whole process of managing the fire barriers for the life of the facility."
Jacobs' criteria for the system required that each penetration have a label that could be read by a barcode scanner with a PDA that could display who the installer was, when it was installed, what system was used, and any other pertinent information for that particular installation. She also wanted the system to track that location back to a building plan that could pinpoint exactly where the penetration was. In addition, she wanted photo documentation of the installation that then linked back to the previous records without having to manually enter all the data and link pictures with database files, etc. "I wanted a completely electronic system so that all of the information talked together without a full-time person manually connecting the dots and putting all of the data together to document one penetration or one barrier," she said.
ANALYZED DIFFERENT BARRIER MANAGEMENT PROGRAMS
MTS Contracting brought multiple systems and several vendors to the table. "We analyzed the different programs and went through various demonstrations," said Jacobs. "The electronic barrier management program (eBMP™) from STI was the only system that exceeded my expectations and criteria. Some of the other systems didn't have all of the features, or had different devices that I didn't feel were user friendly. Some were missing components of information that we wanted to have as part of the database. Others were more cumbersome to use. The eBMP™ seemed to be very comprehensive. It captured all the pertinent data and we have had the ability to roll out an above ceiling permit program through the eBMP™ system as well as document other regulatory and compliance requirements and track those in the system as well." The system is maintained by MTS Contracting. "It does not require an individual to monitor it," added Jacobs. "It is a stand-alone system that doesn't require a lot of maintenance or upkeep."
MANAGING THINGS ON THE FRONT END SAVES MONEY
By implementing the eBMP™ and having it maintained by the hospital's specialty firestopping contractor Jacobs is hoping to re-invent a culture that says 'You just do your work and try to hide that you haven't properly maintained the integrity of that rated barrier' — a culture that says it's someone else's problem on down the road. The problem with that way of thinking, said Jacobs, is that a fire marshal or The Joint Commission or other regulatory body can literally close your doors if they find fire safety deficiencies that jeopardize the life safety of your patients. "The goal," she explained "Is to manage things proactively so as to alleviate the need to spend money every year on fixing firestopping issues. Capital dollars can then be allocated for improving patient care or for infrastructure repairs and improvements so that we can provide value and better service to our patients."
MAKING FIRESTOPPING A PRIORITY
"The number one thing that's made the biggest change is making firestopping a priority," she said. "We are taking a very strong stance that we are not going to continue to throw money on an annual basis at something that should be done right from the beginning. Having a certified and qualified specialty firestopping contractor do the work has made a tremendous difference so that contractors and subcontractors don't have to deal with firestopping anymore. They never liked to deal with firestopping as it was just one of those evil necessities. Now they don't have to think about firestopping. Nobody's yelling at them about doing it right. The contractors working on site have absolutely embraced the system and are now very appreciative of what we have done."
# # #
ABOUT SPECIFIED TECHNOLOGIES, INC
Headquartered in Somerville, New Jersey, STI is an industry leader solely committed to the development of innovative, reliable firestopping solutions. Marketed under the EZ-Path®, SpecSeal® , and eBMP™ brands, the STI line offers over 1200 UL® Classified systems that assure high quality, high performance, and highly cost effective firestopping solutions.