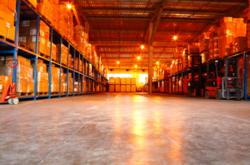 Conditions are clearly improving, and the fundamentals look good, but the warehouse market has yet to respond. - Robert J. Bowman, SupplyChainBrain
Tulsa, Oklahoma (PRWEB) May 24, 2012
According to the U.S. Bureau of Labor Statistics the number of private warehousing and storage establishments has decreased and slowed over the past several years so that the current number hovers barely above 2008 levels. Historically, the industry gained an average of 409 private warehousing establishments a year from 2002-2008, which means that our relatively flat growth rate over the last four years could mean we are headed for a major shortage of warehousing space – even more so as the economy rebounds.
"Conditions are clearly improving, and the fundamentals look good," wrote Robert J. Bowman of SupplyChainBrain in his article titled "Warehouses Aren't Making Room for the Recovery." "But the warehouse market has yet to respond. Distribution operations are going to feel increasing pressure to boost storage space as supply and demand grow further out of balance." Bowman sites Walt Rakowich, co-chief executive officer of Proligis with stating that "the absorption of warehouse space – actual demand – is beginning to accelerate" and that the "average utilization levels have risen from 82.5 percent to 84.5 percent in the past two years."
This is news to celebrate as we watch companies continue the long climb back to profitability since the peak of the recession in 2009, however, now is a critical time for businesses to reevaluate their warehousing and inventory needs and make sure to lock in the space necessary to support their continued growth. For assistance with your current and future warehousing needs, contact the Conexus warehouse and distribution facility in Laredo, Texas by calling 956-284-2901.
Conexus, LLC, formerly Melton Logistics, LLC, is a non-asset based third-party logistics company serving the United States, Mexico and Canada. The company offers truckload, less-than-truckload(LTL), temperature controlled, flatbed, over-dimensional, intermodal, expedited ground and air and specialized freight services as well as warehousing, inventory and distribution through its 30,000 square foot warehouse in Laredo, Texas. The company has been in business since 2003.