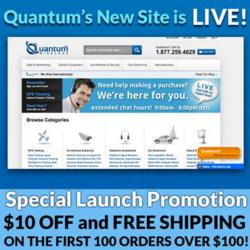 $10 off and free shipping will be offered to the first 100 customers using the coupon code "NEWQW10" with a purchase of $100 or more.
New York, NY (PRWEB) May 09, 2012
Quantum-Wireless, an e-commerce company delivering customized solutions in next generation communication technologies, is launching their improved website to further enhance the shopping experience.
In order to celebrate the launch of the new website, Quantum-Wireless is offering a one-time-only promotion: $10 off and free shipping will be offered to the first 100 customers using the coupon code "NEWQW10" with a purchase of $100 or more.
"We realize not all of our customers are familiar with the types of niche products we sell," said COO Eytan Wiener. "Special efforts were thus put into easing the customers' purchase decisions by providing more understandable, more accurate and more user-friendly product information. We hope our efforts will assist our existing customers as well as help us acquire customers who are new to our product line."
Quantum-Wireless' quality engagement focuses on providing personalized advice from industry experts and delivering highly customized wireless systems to customers. The website's design has been improved to ensure more intuitive navigation between product categories, and a more streamlined checkout process. The new website also allows visitors to create a customer account to save their payment information and preferences for future reference. This feature, combined with a new one-click Add-to-Cart feature significantly shortens the checkout process, ensuring customer satisfaction.
The main assets from Quantum's original website have also been preserved and improved, including customized product recommendations and Live Chat with wireless experts.
Quantum also saw the launch of their new website as an opportunity to add new manufacturers and unique products to their listings, including the Cerevo Live Shell for live streaming and automatic upload of HD-camera footage. Also available is the whole product line of 3G/4G routers, access points & other networking devices from TP-Link, Quantum's newest partner. Quantum also recently expanded to new product categories by working with cell phone and smartphone accessories manufacturers such as novero (stylish and high quality Bluetooth headsets and car sets) and Phonesuit or LifeProof (iPhone cases & external batteries)."The transition to our new website has been a long-term project requiring hard work and great involvement from all our staff. We are proud to launch our new website today and we hope that our customers will enjoy the new interface as well. It certainly represents a new milestone—and a higher industry standard—in our constant efforts to provide our customers with the best quality service," announced Ari Zoldan, CEO of Quantum-Wireless.
The redesigned Quantum-Wireless website is set to go live on May 09th, 2012 at 9:00 a.m. EST.
About Quantum-Wireless
Quantum-Wireless is a global leader in wireless solutions specializing in niche next generation communication devices. The company sells an extensive portfolio of products, including but not limited to: cell phone signal boosters, advanced 3G/4G routers, mobile hotspots, and GPS tracking products. Quantum-Wireless has a company culture fueled by intuition, creativity, innovation and technical expertise. The Quantum team channels these attributes into its strategic vision, business practices and all its customer interactions. For more information about Quantum-Wireless, please visit quantum-wireless.com.
Terms of Offer
The coupon code "NEWQW10" is to be used during checkout. This offer is valid for orders over $100 only. Free shipping is available only for delivery within the continental United States. It starts on Wednesday 09, May 2012 at 12:00 p.m. and ends when the coupon code has been used 100 times. The coupon code can only be used once per customer.