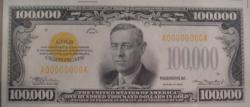 Money is history you can hold in your hands.
Denver, Colorado (PRWEB) May 07, 2012
More than $1 billion of historic rare coins and colorful paper money -- including $100,000 bills from U.S. Treasury Department vaults in Washington, DC -- will be displayed to the public at the National Money Show(SM) (http://www.NationalMoneyShow.com) at the Colorado Convention Center in Denver, May 10 - 12, 2012. The family-friendly, three-day educational event is sponsored by the Colorado Springs-based nonprofit American Numismatic Association (ANA).
Visitors can see dozens of eye-opening displays such as a $2.5 million nickel, 19th century Colorado territorial gold coins and a $500 million Treasury Note.
"It's a once-in-a-lifetime opportunity for many people to see these historic, valuable national treasures in person," said Tom Hallenbeck of Colorado Springs, Colorado, president of the 28,000-member American Numismatic Association (http://www.money.org). The Congressionally chartered association is dedicated to educating and encouraging people to study and collect money and related items.
Among the extraordinary exhibits will be the Treasury Department's Bureau of Engraving and Printing "Billion Dollar Display" that includes two dozen $100,000 bills and other rare, high-denomination antique money. Visitors can see daily demonstrations of a Civil War-era, one-ton, hand-turned money printing press, and meet the Treasurer of the United States, Rosie Rios, on opening day.
The ANA Money Museum will display one of the world-famous 1913 Liberty Head nickels, valued today at $2.5 million, and a 1792 silver "half disme" (an early spelling of dime) valued at $220,000. Only five 1913 Liberty nickels are known, and a former owner of this coin carried it in his pocket to show complete strangers he owned the world's most valuable nickel. The tiny half disme is the first coin authorized by President George Washington and was personally received from the Mint by then Secretary of State Thomas Jefferson.
Seldom-seen, odd-shaped "Lesher Referendum Dollars" also will be displayed by the ANA museum. These historic, octagonal silver "coins" were privately issued by Joseph Lesher in Victor, Colorado in 1900 and 1901 to boost local commerce and support silver mining.
"Money is history you can hold in your hands. At this event you can see everything from half-cents and half-dimes to a $500 million Treasury Note. There will be educational seminars, exhibits and a children's treasure hunt trivia game with free prizes," Hallenbeck said.
More than 500 professional coin and currency dealers attending the show will be buying and selling items ranging from $1 to $1 million, and many of them will provide free, informal appraisals for visitors who bring in their old money.
The National Money Show will be held in Hall C of the Colorado Convention Center, 700 14th Street, Denver. Public hours are from 10 am to 5:30 pm Thursday and Friday, May 10 and 11, and from 10 am to 4 pm Saturday, May 12. General admission is $6. Children 12 and under are admitted free.
For additional information, visit the American Numismatic Association website, http://www.NationalMoneyShow.com, or call (719) 482-9867.