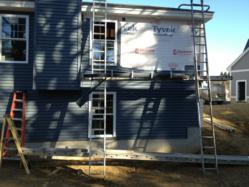 Innovation improving Safety, Time & Quality
Hudson, NH (PRWEB) May 01, 2012
AGT Manufacturing, LLC is proud to introduce the revolutionary Trant Bar, a tool that no contractor should do without. The Trant Bar is a support extension that attaches to scaffolding and allows craftsmen easy access to the tools and supplies they need to complete the job they are working on. By placing these tools in easy reach, the Trant Bar makes additional staging, boarding, and planking unnecessary, which provides many advantages.
The Trant Bar attaches and detaches within seconds. By simply attaching the Trant Bar to scaffolding, the long setup times to build additional staging is no longer needed, freeing up more time to work on the project itself. By reducing the amount of time spent gathering materials by two to three hours on average - the Trant Bar lets craftsmen spend more time working on the project and less time preparing for it, which helps lower project completion times as a whole, resulting in higher profitability for the builder. Construction trades, such as siding companies, will benefit greatly from the Trant Bar. By putting an emphasis on siding material storage while on the staging, siding companies will save vital time and money. Other exterior renovators, such as painters and roofers, will also benefit from the time saved by using the Trant Bar. In a world of tight budgets and short deadlines, the Trant Bar can make an appreciable difference.
The additional workspace providing by the Trant Bar integrates easily in any direction into existing scaffolding and planking, as well as with other safety accessories. The Trant Bar keeps tools easily within reach while also helping to ensure that they don't easily fall from the scaffolding.
In addition to integrating seamlessly with scaffolding, the Trant Bar is also designed to work with ladders and adheres to OSHA regulations relating to ladder safety. The benefit of additional workspace for tools and supplies that the Trant Bar provides is sure to be appreciated.
Time is money in the construction industry, and AGT Manufacturing, LLC and the Trant Bar can help with both.
About the company:
Established in 2011, AGT Manufacturing, LLC is physically located in Hudson, NH, but has several clients in Manchester, NH, Portsmouth, NH, Northern Massachusetts and has been rapidly expanding. The company is focused on improving the time it takes to complete decking, siding, and roofing projects through innovative new products. By decreasing the investment of time in a project, the return on investment for the contractor increases. Their motto is "Innovation improving Safety, Time & Quality". Visit their website at http://www.agtmanufacturing.com.