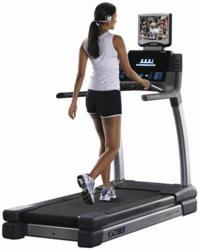 Health should never be cast aside to save money. Refurbished gym equipment offers a solution to this problem.
(PRWEB UK) 15 May 2012
The cost of living is at an all time high, how can we still get to work out when there is time and financial pressure elsewhere? Health Clubs at Home have the answer. They can offer refurbished fitness equipment for the home, with sale prices now on, it is the perfect time for an investment.
Now that having a gym membership can be a strain on the wallet, less people are working out in their spare time, but when you could have a piece of Technogym equipment at home, there could be no more excuses. Health is a subject that should always be addressed and not being able to look after our health can come a most more important than a few days off of work.
Health Clubs at Home's spring sale could have the solution to this problem by offering refurbished gym equipment for the home at prices only a fraction of the retail value. Creating a domestic gym can be the answer to those who want to workout, but don't want the financial commitment of a gym contract. It is a fantastic opportunity to get some premium commercial equipment that you can use whenever you want.
Reconditioned equipment at this sale price is a great way to keep in shape at home. It utilises all spare time and involves no traveling or time costs!
All of the machines from Health Clubs at Home come with a three-month parts and labour warranty. This offers peace of mind when buying a refurbished product. The machines can also be stripped down, tested and cleaned so it looks and performs like a brand new machine. This also means it isn't an eyesore and can fit in with the aesthetics of the modern home.
Managing Director Howard set up Health Clubs at Home almost a decade ago. He still holds the same values as he did then. 'Keeping in shape and looking after our health should always be a top priority,' says Howard, 'it is getting harder to be able to do that in this economic climate and that's a sad thing to see. My goal is to make sure that everyone has the chance to have a healthy lifestyle. Having frequent sales and promotions like this is a way to reach out to more people.'
Health Clubs at Home always have dedicated and expert staff on hand. So customers are in good hands, with help and advice around the corner.
There is also a showroom for customers, so that everyone can see a vast array of Treadmills, Cross Trainers and many more products. With over five thousand machines in stock there is something to suit every taste and budget.
For more information on how Health Clubs at Home can help then please call Howard Braband now on freephone 0808 231 4876 or visit http://www.healthclubsathome.com