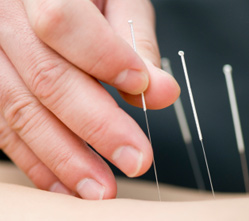 Acupuncture before and after surgery reduces the amount of pain medication needed.
San Francisco, CA (PRWEB) May 01, 2012
Acupuncture is emerging into a widely accepted method for pain management. Many recent studies conclude that acupuncture for post-surgery pain control is very valuable. Research in The Journal of the American Society of Anesthesiologists concluded that the use of acupuncture before and after abdominal surgery speeds healing, reduces the amounts of pain medication needed, and significantly lowers the pain drug-side effects.
Jennifer Ross, L.Ac., at Remedy Acupuncture in San Francisco, specializes in acupuncture for post-operative pain and scar tissue. She sees first hand how acupuncture eliminates pain in patients who suffer after surgery.
"It's very easy to become dependent on pain medications, especially in the long term. Our bodies create a tolerance to painkillers the longer we take them, and we need a higher dose to feel the same relief," Ross explains.
Millions of Americans suffer from chronic pain, and this can be physically as well as mentally exhausting, triggering other symptoms like anxiety, depression, anger, and fatigue. Ross recalls one patient's fight to regain her life back, pain free.
"My patient came to see me for persistent back pain after scoliosis surgery. About four years prior, many of her vertebrae were fused together to correct the curvature in her spine. She had a scar that ran along from the base of her neck all the way to the top of her sacrum. She was depressed due to the pain, taking NSAIDs every day, and was having digestive problems because of it.
Many doctors prescribe NSAIDs (non-steroidal anti-inflammatory drugs) and opioids to keep patients comfortable and able to perform day-to-day activities. Immediately after surgery this can be helpful, but long-term use can lead to severe gastrointestinal problems, kidney damage and heart disease.
"I spent about four treatments doing acupuncture directly on the scar tissue on her back. After getting through the whole scar, she reported about an eighty percent improvement in her pain. I continued to treat her for other complaints and throughout, her back pain never returned," Ross described.
Ross's treatment plan worked, yet not all treatments are the same. Acupuncturists evaluate every patient individually, starting with a thorough understanding of the patient's medical history and tailoring a treatment plan to their specific needs. The use of acupuncture for pain in place of long-term medication after surgery can be a pro-active way towards a healthy future.
Jennifer Ross, L.Ac. practices Chinese Medicine through the use of acupuncture, herbal medicine, exercise, massage, and diet to improve the quality of life for her patients. She practices in San Francisco at Remedy Acupuncture Clinic. For more information, or to contact Jennifer, please visit the website at http://www.remedyacupuncture.com.