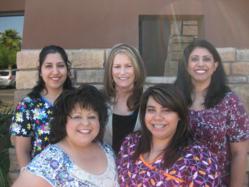 "There can be no keener revelation of a society's soul than the way in which it treats its children."
Nelson Mandela
Gilbert Arizona (PRWEB) May 01, 2012
It has been an eventful beginning to the new year at Southwestern Pediatrics Gilbert. The practice reopened in December of 2011 with a new team and new providers,Farah Rehman Lokey MD and Laura French CPNP.
The team has been out to meet and greet with the great families of Spectrum at Val Vista in December and Power Ranch in March. It is quite an honor to serve the people of these communities and many more in Gilbert, as well as surrounding cities of Mesa, Chandler and Queen Creek. In March, Southwestern Pediatrics Gilbert joined the Gilbert Chamber of Commerce and is happy to be part of the Shop Gilbert campaign.
In an effort to be significant members of our community. The clinic is starting the Charity of the Month. We ask our patients and families to come and donate items every month that we will distribute to different charities throughout the year. Starting in May, we will be taking donations for the Child Crisis Center. Please look for details on our website. Please come visit and establish with our clinic and drop off your donation items.
As the cold weather starts to abate and the summer rolls in it is an optimal time for children to get into the doctor if they need their well exams and sports physicals. Children come in for their well exams to make sure they are developing into superb people and that their immunizations are up to date. As well as discuss any concerns parents have about their child's development. Well exams are important even if children don't need any vaccines because children change drastically from year to year. It is helpful to children and parents to be able to have annual conversations about life and development.
Sports physicals are different from well exams, as they a more focused exams that help illuminate any risk factors that may cause difficulty or severe illness in children when playing sports. A detailed family history focusing on cardiac issues, sudden death below the age of 50 in family members and other respiratory issues is vital. As well as a detailed past medical history for the child to make sure there is no episodes of syncope or fainting, exercise intolerance or any other respiratory issues, heart issues like murmurs or physical defects in the heart. These of course would hamper any child from playing sports.
So we start our sizzling Arizona summer with a charitable heart and focus on preventative medicine.
Southwestern Pediatrics Gilbert is located in the Spectrum Falls plaza at the intersection of Williams Field Rd and Val Vista Drive. We accept most insurances and have a self pay and payment plan options available. Make us your child's medical home...2730 S. Val Vista Dr. Suite 161, Gilbert AZ 85295. 480-857-6316