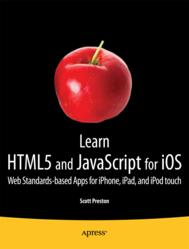 New York, NY (PRWEB) May 02, 2012
Whether a developer has a simple or complex idea for an iOS app, author Scott Preston provides the necessary tools to program them in "Learn HTML5 and JavaScript for iOS," just released by Apress Media. Other books on the market today focus on out-of-date technologies or take a vanilla approach to development, but this is the first title to provide real-life examples for iPhone, iPad or iTouch app programmers.
Preston takes readers step-by-step through creating a mobile web app for iOS, starting with an overview of HTML5, JavaScript, and mobile web frameworks. He then goes more in depth including design considerations that factor in usability and HTML5 features like animation, graphics, and geolocation. Final preparations include teaching developers how to customize the app based on a device and operating system, testing techniques, and how to optimize app productivity.
This book caters to those that want to move into mobile app development for iOS devices or current mobile programmers and users who want to develop cross-platform web apps.
For more information on "Learn HTML5 and Javscript for iOS," please visit http://www.apress.com/9781430240389.

ISBN 978-1-4302-4038-9
350 pages
User Level: Beginner to Intermediate
Publication Date: April 18, 2012
Available eBook Formats : EPUB, MOBI, PDF
Print Book Price : $39.99
eBook Price: $27.99
About the Author
Scott Preston is a software craftsman and roboticist from Columbus, Ohio. When he's not working on a new robot or web project, he consults and solves hard problems for customers at his company CodeGin LLC, which he founded in 2010. He is also a renowned speaker who has appeared at many events to promote web development and robotics. You can find out more about Scott by visiting his website: http://www.scottpreston.com or his robot project site http://www.scottsbots.com.
About Apress Media
Apress Media is a technical and business publisher devoted to meeting the needs of IT professionals, software developers, programmers, and business leaders with more than 1,000 books in print and electronic formats. Apress provides high-quality, no-fluff content that helps serious technology professionals build a comprehensive pathway to career success. For more information about the innovative approach Apress takes to publishing, please visit http://www.apress.com.