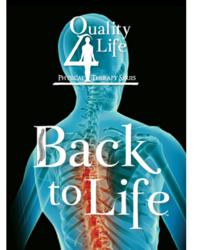 For the one time price of less than a typical copay, patients can learn how to treat their pain using demonstrated exercises for back pain.
Chandler, AZ (PRWEB) May 30, 2012
Back to Life announces an in home back pain treatment video as an affordable alternative for the thousands of individuals struggling with treating back pain. In partnership with Pageviews, Back to Life is reaching out to customers world wide in order to help them win the battle against ongoing and debilitating back pain.
Back to Life is a series of videos created by professional physical therapists as a quality, affordable alternative to expensive in office visits to an orthopedic center. Based in Chandler, AZ, the company hopes the videos will become a popular alternative for patients who are looking for pain relief while struggling on a budget.
Insurance companies raise typical co-pays and deductibles to between $30 to $60 dollars, traditional back pain treatment has grown out of reach for most Americans. At the same time, the loss of sleep and physical stress on our bodies has grown exponentially. And it's breaking the backs of Americans at an alarming rate.
The video meets the need for patients to find cost effective ways to lessen their back pain and get back to living. A one time investment in the video offers professional help at their fingertips. In partnership with PageViews, a SEO company based in Scottsdale, AZ, the creators of Back to Life hope that by distributing their product on the web, the video will give patients the most affordable and flexible way to manage their back pain.
The partnership with Pageviews is an effective way to increase the public profile of Back to Life as a way to directly market the video to prospective customers. Pageviews has enabled the company to bring their product to the widest audience possible, through social media exposure as well as a dedicated web presence. Patients who sit endlessly in an office chair can surf to Back to Life's site to find a way online to deal with their pain. Back to Life features testimonials on You Tube from satisfied clients, as well as a way to network with other sufferers. Through their partnership, Back to Life can effectively reach as many patients and give them a method for relieving their pain.
Back to Life is the brainchild of orthopedic therapist Sean Miller and his partner, who saw a need for patients to get the same level of care they need without draining themselves financially. The video is a $29.95 value filled with effective exercise for back pain created by trained orthopedic professionals. For the one time price of less than a typical copay, patients can learn how to treat their pain using demonstrated exercises for back pain.
"In the physical therapy profession, exercises are key," Miller says. "What we have to offer can't completely replace what a physical therapist can do. There are certain skills that can help a person immensely. But for someone who can't afford to come every week, this is a great alternative for them."
Just as therapists give patients a regimen of exercises for back pain to do at home, the video gives instruction on exercises that a patent can do on their own time. And unlike office visits, the video is available 24/7, whenever the patient is in need of it.
The video walks a patient through the list of exercises, giving the same amount of care that happens in a traditional in-person visit to an orthopedic center. No special equipment or props are needed, which adds to the affordability of the video.
The fifty (50) minute Back to Life DVD offers patients home instruction for each exercise for back pain, given by an experienced Licensed Physical Therapist. In addition to the on camera instructions, each video contains a booklet that explains all of the exercises featured on the video. Since proper stretching is vital to providing back relief, the video offers extensive stretches for patients to follow. And with an experienced instructor, viewers can be sure that each exercise is proven to provide back relief when followed correctly. Each purchase of the video includes access to online forums where patients can chat with other back pain sufferers as well as trained and licensed professionals.
The Back to Life Video offers patients who are suffering from ongoing back pain and a financial strain an affordable, professional produced alternative to time consuming and expensive in office visits for relief from their suffering. In addition to giving patents 24/7 access to demonstrated, effective exercises for back pain relief, the video offers avenues for patients to connect with others who are suffering and receive feedback and support from experienced professionals.
The Back to Life video is available for purchase at http://www.backtolifevideo.com/back-pain-relief-video.html. For more information, visit Back to Life at http://www.backtolifevideo.com/ or contact at (480) 409-1048 or hello(at)backtolifevideo(dot)com.