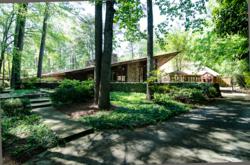 This home still evokes the magic feel of Frank Lloyd Wright's Organic Architecture as only one of his protégé's could deliver.
Atlanta, Georgia (PRWEB) May 08, 2012
The Atlanta, Georgia home known as Arrowhead - designed by well known Frank Lloyd Wright apprentice Robert Green has been listed in the active real estate market for only the second time in its history.
This property has long been considered architecturally and historically significant to the midcentury modern movement in the Southeast. Built in 1963, the property reflects Wrights Usonian style directives with its use of natural materials including thousands of board feet ot rare tidewater red cypress wood and local sourced fieldstone.
Robert Green began his studies in Atlanta at Georgia Tech before seeking an apprenticeship at Taliesin West Arizona and was part of a small group of apprentices that studied with Frank Lloyd Wright until Mr. Wright's death in 1959. In addition to Arrowhead, Mr. Green designed many Atlanta properties including The Donges House which was featured on HGTV, and his properties are rarely available on the open market. MidCentury properties specialist and Atlanta Moderns founder, Michael Redwine of Atlanta Fine Homes, Sothebys International Realty will handle the sale.