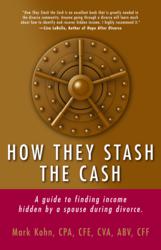 . . . an excellent book that is greatly needed in the divorce community.
San Clemente, CA (PRWEB) May 10, 2012
It happens all the time. A business owner files for divorce and then says there is no money to pay child support or alimony. There are no W-2s for business owners, and accounting books are easy to manipulate. So, unless a spouse can prove otherwise, hidden income remains hidden. Luckily, there are ways to find it.
Forensic accountant Mark Kohn shows readers how to find a spouse's hidden income in his new book, How They Stash the Cash (Sourced Media Books; March, 2012; $14.99; ebook $9.99). Using case studies from 25 years of experience, Mark provides simple explanations and practical tips to help divorcing parties find hidden income and get their fair share of support and divorce assets. Using Mark's book as a guide, here are three ways to check whether your spouse is stashing your cash:
1. Hire a private investigator. While private investigators can be expensive, they are very useful. In cases where there are suspicions of clandestine real estate acquisitions, secret bank accounts, or business deliveries to customers that are not on the books, a private investigator can be of great help. In one case, a woman hired a private investigator who uncovered an email exposing her husband's interest in an Oregon shopping center that had never been disclosed. While the husband confided that he had not gone through with the deal, he was so rattled by his wife's attorney's knowledge of his interest in the shopping center that he decided to settle before his wife's lawyer could uncover anything else.
2. Dig through the garbage--a treasure trove for people looking to find hidden income. One business owner (let's call him "David") set up secret accounts in his mother's name and deposited money into them without his mother's knowledge. A private investigator conducted a trash search and found an empty gift box with a card from a Florida law firm thanking David for his business. David's wife's lawyer subpoenaed the Florida law firm for all invoices that they issued to David or to any entity in which David had any interest. The Florida law firm provided invoices, and the entire scheme eventually became clear.
3. Search for hidden files. Hidden income is usually not completely hidden. A good businessperson wants to know how his or her business is doing in order to improve any deficiency. Doing that requires real numbers. So while false numbers are given to the IRS, the real numbers are used to analyze the state of the business. Obtaining those real numbers during a divorce is sometimes difficult, but Mark's clients have found them hidden everywhere from the office to the bedroom.
Mark offers clear explanations, vivid illustrations, and even red flags that suggest someone may be hiding income. And, as a forensic accountant in the Los Angeles area, he has plenty of entertaining anecdotes to tell about divorce in the Golden State.
With the two trillion dollars of income being hidden every year, it's nice to know that someone can find it. And now, with Mark's techniques, so can we.