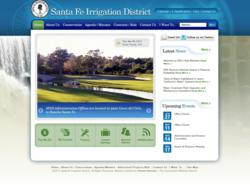 Rancho Santa Fe, CA (PRWEB) May 03, 2012
The Santa Fe Irrigation District is proud to announce the launch of its reinvented government website - http://www.sfidwater.org. Launched earlier this week, this dynamic government website was created with the guidance of Vision Internet, a national leader in government website development.
The new website showcases a sleek, new homepage designed. The navigation has been updated to include dropdown menus, quick links, and a powerful search bar to efficiently move users throughout the website. Key buttons found on the homepage link users to top interior destinations while the news and calendar feeds immediately share time-sensitive information.
The overall functionality of the new website far surpasses that of its predecessor for one simple reason - the Vision CMS™. This powerful government content management system enables both technical and non-technical staff members to easily update and maintain the website through the use of user-friendly tools, such as:

Browser-based administration and WYSIWYG text editing
Multi-tiered review and approval cycles allowing departments to manage their own content
Automatic mobile site updates
Scheduled content review to ensure information does not get out of date
Integrated e-notification with automatic archiving and other tools
The Vision CMS™ is also the technological platform for the website's many new online services, such as online bill payments, an e-notification system with automatic archiving functionality, dynamic calendar feeds, and searchable staff directories.
"When the decision was made to update our website, we found Vision Internet to be the most well suited website company for our needs," said Management Analyst Jessica Parks. "The flexibility of their government content management system (the Vision CMS™) has played an important role in enhancing online services and managing content on our website."
The Imperial Irrigation District and Sweetwater Authority are two other examples of special service districts that are keeping citizens well informed by using the Vision CMS™. For those interested, Vision Internet provides an informative demonstration of the Vision CMS™ through their website.
For more details specific to the Santa Fe Irrigation project, please call 888.263.8847 or email info(at)visioninternet(dot)com.
About Santa Fe Irrigation District:
Santa Fe Irrigation District (SFID) was formed January 26, 1923 under the California Irrigation District Act to deliver water to Solana Beach, Rancho Santa Fe and Fairbanks Ranch. SFID provides potable water service for agricultural irrigation, commercial and residential water customers; and recycled water for irrigation of common areas, golf courses, schools, businesses and Caltrans.
About Vision Internet:
Vision Internet is the leader in government website development with over 400 clients across the US and Canada. For 16 plus years Vision Internet has been creating industry-defining websites built on leading technology including the government content management system, the Vision CMS™. Widely recognized as the best government website vendor, the company has earned hundreds of prestigious industry awards for its unique websites. Reinvigorating the eGov outreach of every community they serve, Vision Internet has earned the title of the Government Website Experts.