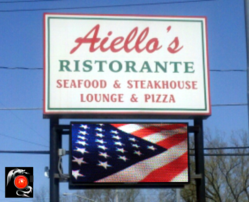 "When we put our first LED sign up, we stopped doing radio, TV, and newspaper ads, and saw an increase in our business immediately."
-- Charlie Aiello
Whitney Point, NY (PRWEB) May 03, 2012
After dedicating a large amount of resources to traditional advertising, Aiello's Restaurant and Lounge in Whitney Point, NY decided try something different. They contacted Dragonfly Signs who specializes in digital advertising to install a LED Sign.
Running a successful family owned restaurant is exciting but challenging. In today's corporate, fast food world it takes special people with a lot of passion to keep a local business up and running. Advertising your services to a wide audience can be difficult with a limited budget, but it is possible. Just ask Charlie Aiello and his brother Vinny. They have been at it for 30 years now, running Aiello's Restaurant and Lounge in Whitney Point, NY.
"I was born in Sicily, and our family was in the restaurant business in the old country," relates Charlie. "We moved to Brooklyn in 1972; and in 1982 we thought about moving out of the city and opening up a local restaurant." They eventually found a great location in Whitney Point, NY at the corner of Corner U.S. Rte. 11 & Main Street. Its central proximity to the Binghamton, Cortland, and Ithaca areas made it an ideal spot for their business.
Initially, they were selling just pasta and pizza, but soon expanded their menu to include hamburgers, chicken, paninis, steak, prime rib, and a very large selection of fish and seafood. "We wanted to cater to everybody....from a $3-4 meal to a $30-45 meal," said Charlie. Currently the menu is over 100 items, including Linguini with Clam Sauce, Filet Mignon Milanese, Steak Italian Salad, The Blue Burger, and the award winning Seafood Stuffed Mushrooms.
In addition to providing good food, the Aiello family has a generous heart. Their Facebook profile and website gallery feels like a family reunion, with smiling faces and thoughtful comments filling the sites. They also regularly provide time and money to support local groups in need. Whether it's donating a portion of proceeds to the volunteer fire dept or supplying free pizza at a fundraiser for local flood victims, the Aiello family walks the walk; this is local business done right.
After dedicating a large amount of resources to traditional advertising, they decided try something different and get a LED Sign. "When we put our first LED sign up, we stopped doing radio, TV, and newspaper ads, and saw an increase in our business immediately," said Charlie. In fact, they reported a 10-15% increase without spending any money on traditional advertising. Their decision had paid off and the sign worked well for quite some time, but there were some drawbacks. "It was very difficult to add images or video to the sign," related Charlie. "We had a hard time keeping it up to date." When the original sign was struck by lightning, they had an opportunity to find a replacement. This time, they knew what they needed and replaced it with a full color LED sign from Dragonfly Signs, a LED supplier who specializes in high quality outdoor LED signs and Digital Message Centers.
Charlie worked with Dragonfly owner Jayson DeCandis on the project. He was impressed with Dragonfly's motivation and drive for customer service, a concept sorely lacking in the sign industry. When the original sign installer was too busy, Dragonfly stepped in and got it installed quickly and professionally and continues to fully support the sign. Charlie compares Dragonfly's customer service to the restaurant business: "Fresh ingredients are very important to us, we don't cut back on quality...if you give people good quality and good service, they come back."
The sign was installed in October of last year and so far Charlie has been very impressed with the performance reporting that he can now add picture and video messages very quickly to the sign using Dragon Fire LED Software, allowing "instant advertising" to his customers. This instant and dynamic advertising is key for a local business like Aiello's who values social interaction and communication with their customers. A truly big hearted company, Aiello's exemplifies the best qualities of America's local businesses. Now able to more fully promote these qualities through the new LED sign, they will certainly continue to grow as an example to all business far and wide.